The Beauty of the Universe:  Sushmita Sen
Sushmita Sen is an Indian film model who made her entry in the Bollywood after she won the famous Miss Universe in 1994. Being the first Indian to be crowned with the Miss Universe title, her victory feat was celebrated across the country. She has led an inspirational life for the people who believe in philanthropy. Alongside a model and an actress, Sen is a big time humanitarian and has time and again proved her resilience by standing with various social issues.
Sushmita has worked in a total of 37 films, in which majority of appearances come from the Bollywood. She has won several accolades for her short stint in the industry. Although she hasn't been a part of monumental movies, Sen has worked her way out to carve a successful career in acting and modeling.
Sushmita Sen Age, Height, and other Figures
The actress has had a stunning figure and a marvelous face right since her award-winning spree. No wonder, she ruled all the beauty pageant contests during her time. She defeated Aishwarya Rai to win her Miss India Title in 1994. She went on to claim the highest claim for her beauty in the following year. The model turned actress has graced the Bollywood industry with her stupendous elegance and miraculous features.
Sushmita Sen Body Vitals
Age: 41 years (as in 12th April 2017)
Height: 5 feet 9 inches, 175 centimeters
Weight: 54 kilograms, 119 pounds
Curves: 33-25-34
Hair Color: Black
Eye color: Light Brown
Sushmita Sen Biography
Born on 19th November 1975 in Hyderabad, Sushmita grew up with a tomboyish personality. She admits of hanging around with boys in her childhood days. She studied in three different schools due to the family transfers in quest of their duties. She attended Air Force Golden Jubilee Institute and Air force silver school during her time in Delhi. She completed her schooling from the St. Anne's High School in Hyderabad. The actress did not pursue higher education during her teenage. Instead, she shifted her complete focus towards the glamorous realm of modeling. The actress has managed to pursue a degree in English Honors.
Sushmita Sen Family
Sushmita was blessed to the duo of Shuber Sen and Shubhra Sen. The entire clan of Sen's hail from the state of West Bengal. Her father was an air force wing commander, while her mom is an established jewelry designer and an owner of a store in Dubai. She has a younger brother, Rajeev and a sister, Neelam. The family relocated time to time due to their father's posting and transfers while working with the Indian Air Force.
The Glorious Modeling Days
As her father recalls, once Sushmita Sen was watching the beauty contest when she was 15. Her father joked about her winning the title. Her father encouraged her to participate in the beauty contest held for Air Force kids. She had then answered back to saying she will win the ultimate crown. She proved herself to her dad and the rest is history.
Sushmita Sen qualified for the Miss Universe beauty contest by winning the Miss India Title in1994. Aishwarya Rai was the first runner-up in the contest. Sen was left far behind in the preliminary rounds of the Miss Universe competition. Later, she coped up in the forthcoming rounds by securing better positions to claim the ultimate crown of the Miss Universe. Even Sushmita followed the age-old tradition of making a career in the Bollywood after a successful spell at modeling days.
Bollywood Buzz for the Beauty
Sushmita had followed the herd to make a debut in the Hindi Film industry. Sen's first movie was Dastak which was released in 1996 opposite Mukul Dev. The movie directed by Mahesh Bhatt was a big flop even after movie tried to gain publicity by putting Sushmita Sen and her victorious feat on the banner.
She worked in a Tamil movie meanwhile, only to make a Bollywood appearance with Biwi No.1 opposite Salman Khan. The movie was a huge commercial and critical success and garnered praises for the actress. She won her first Filmfare for her fantastic role in the movie. She also acted in a movie, Sir Tum where she replicated her role from her first award winning movie. She appeared in a dance number in Fiza with desperate attempts to make a niche for herself in the industry.
Sen featured in several successful Bollywood movies in the early 2000's. Movies like Aankhen, Shah Rukh Khan Starrer Main Hoon Na, Salman Khan and Katrina Kaif starer Maine Pyaar Kyun Kiya were all met with commercial rewards and critical recognition. Though she acted in several Bollywood movies over a period of time, she couldn't clearly establish herself as the Bollywood's top-notch heroines. Here is a complete list of Sushmita Sen's hit movies.
Sushmita Sen Hit Movies
Biwi No. 1 (1999)
Chingaari (2006)
Maine Pyaar Kyun Kiya (2005)
Sirf Tum (1999)
Kyun Ki Main Jhooth Nahi Bolta (2001)
Tumko Na Bhool Paayege (2002)
Main Hoon Na (2004)
Aankhen (2002)
No Problem (2010)
Nayak: The Real Hero (2001)
Nirbaak (2015)
With a handful of hits throughout her career, Sushmita Sen also tried to cement her position in the Bollywood by making guest appearances in few of the Bollywood songs. Here is a complete list of hit songs by Sushmita Sen where she moves her curvaceous figure to perfection.
Sushmita Sen Hit Songs
Tumhe Jo Maine Dekha, Main Hoon Na (2004)
Main Kudi Anjaani, Zor (1998)
Chunnari Chunnari, Biwi No.1 (1999)
Mehboob Mere, Fiza (2002)
Ek Ladki Chahiye, Kyunki Main Jhooth Nahi Bolta (2001)
Just Chill, Maine Pyaar Kyun Kiya (2004)
Tu Jo Jaan Le, Dulha Mil Gaya (2010)
Humko Chune Paas Aaiye , Zindaggi Rocks (2006)
Shakalaka Baby, Naayak (2001)
Kitni Sardi Kitni Garmi, Chingaari (2006)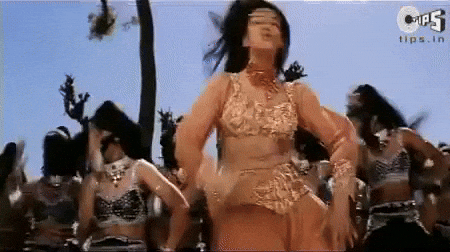 Likes, Dislikes, and More
Sen is ferociously fond of automobiles. She loves her machines to the core and is known to be very affectionate towards jet skiing and biking. She also likes to write poems and prose for herself. Sushmita is a big time animal lover and supports many organizations for the same. She owns 4 dogs and a python as pets. Now that's some kind of animal love.
Favorite Food: Sushi and Chocolate Fudge
Favorite Destination: Dubai, Indonesia, Italy, Maldives
Favorite Superstars: Salman Khan, Shah Rukh Khan, Arjun Rampal, Angelina Jolie
Favorite Film: Cleopatra
Favorite Brand: Elizabeth Arden's Red Door'
Boyfriends, Relationships and More
Single mom of two daughters, Sushmita Sen has struggled to find the right man throughout her life span. She has been linked to many actors, industrialists, directors, and businessmen, but none have qualified to be the ultimate man in her life. With few conventional ones, Sushmita has been into a few scandalous relationships too.
It is believed that the gorgeous actress dated Rickey Martin for a short span. They met during the Miss Universe event where he was one of the judges for the event in Manila, Indonesia. Later in the period, there was news stating her relationship with famous director and producer, Vikram Bhatt.
Her long list of hook-ups and relationships continued for a longer duration. Till date, she has dated many famous businessmen including big names like Sanjay Narang, Sabeer Bhatia, Imtiaz Khatri, Manav Memon, Bunty Sachdeva, Ritik Bhasin, and Mudassar Asin.
The actress found herself in the news when the speculations of her dating Wasim Akram hit the media. The rumors had a big impact on Sen's life but the rumors couldn't conclude anything apart from their dating spree.  Her relationship with Randeep Hooda was very much talked about in the industry. It worked well for little less than two years, but Sen and Hooda couldn't sail on the right side of the beach.
Sushmita Sen is a single mother of two daughters for whom she has won all the legal battles to earn the rights of their custody.
Single Mother of Two
Sushmita Sen had to fight a legal battle in the court to earn the rights to raise a girl child after being single. According to Sushmita, the fact that she was single and a Bollywood superstar cited her out to maintain the custody of an adopted child. She broke the Indian inviolable with conviction, won a legal case matter, and earned her rights to adopt a girl child, whom she later named Renee. She adopted her second girl child, Alishah on January 13th, 2010.
Sensuous Sush in Controversies
Sushmita attracted a lot of controversies in her entire Bollywood career. Although her long list of relationships raised a lot of eyebrows, Sushmita always found a way into the Bollywood Tabloids for attracting many controversies apart from her relationship stories. Here is a long list of Controversies Sushmita Sen was involved in.
Sushmita Sen Controversies
Home wrecker Sushmita
Director Vikram Bhatt has openly admitted to his extra marital affair with the Miss Universe Sushmita Sen. According to the director, the duo dated when they were in the early 20's. The director was married and yet continued to stay in a relationship with the actress. He calls it an amateurish relationship that shouldn't have started. Vikram Bhatt is all set to release a movie titled Love Games on his affair with Sen.
The Breast Implant
Soon after the gorgeous actress had won the Universe Title, it is speculated that the actress went under the knife to get an enlarged pair of breasts. According to the few leading newspapers, she was the first heroine in the Bollywood to get herself operated with artificial breasts.
Getting Robbed in Athens, Greece
While vacationing in the Greek capital, Athens, the actress was robbed in 2012. She lost all her important documents, passport, visa, and other valuables at the airport. She failed to prove her identity to the guards and had to undergo a series of questionnaires from the security personnel.
Randeep Hooda- Sushmita Sen Split
The duo split after a series of misunderstandings and arguments. Hooda was recorded saying that the breakup between the two was the best thing that happened to his career. He admitted of being emotionally attached to her daughter but also said that he gave Sushmita a lot of time that hampered his acting career. Reality might still be long closed in the notebook, but Hooda and Susmita's relationship has been one of the major talking points in the last few years.
Money in the Bank
Despite failing to make a big name in the industry for herself, she has continued to add to her bank account with infrequent screen appearances, a production venture, and a huge jewelry store in Dubai. Also, she is the brand ambassador of many high-end products in India. Sushmita Sen's estimated net worth is calculated around $30 million. The entire remuneration comes from her film appearances, advertisements, and her jewelry shop, Renee in Dubai. Her per film fee is approximately around 3-4 crore rupees.
Cars Collection:  Lexus LS 400, Toyota Land Cruiser.
Social Media Buzz
Sushmita Sen is active on twitter with 2.8 million followers. She is one the short messaging site with the twitter handle @thesushmitasen. She is intricately active on Instagram with 752k followers. Her username on Instagram is @sushmitasen47.
Awards, Accolades, and Recognitions
Sushmita Sen has found herself amongst several awards since her inception in the Bollywood. She has won several Bollywood's prestigious awards including a Filmfare and the Rajiv Gandhi award. Though her success in the industry has been short-lived, Sushmita Sen is still remembered for her curvaceous figure and super-awesome facial features. Here is a complete list of awards Sushmita has won in her entire career. Out of 17 nominations, she has managed to win 8 prestigious trophies in her entire career.
 Sushmita Sen Awards
Filmfare award for the best-supporting actress for Biwi No.1 (2000)
IIFA award for the best-supporting actress for Biwi No.1 (2000)
Screen award for the best-supporting actress for Biwi No.1 (2000)
Zee Cine award for the best-supporting actress for Biwi No.1 and Filhaal (2000, 2003)
Rajiv Gandhi award (2006)
Mother Teresa Award for social justice (2013)
Indian Leadership Conclave eternal beauty & actress of the decade (2016)
Sushmita Sen tried hard to make a name in the Bollywood, but couldn;t reach the epitome of success. Even though, she managed to carve a successful career in the Bollywood. She was one of the top actresses in Bollywood in the early 2000's, but her diva tantrums and inability to choose rightful scripts hampered her career as an actress. Yet she is remembered by many for playing a sexy teacher in Main Hoon Na. Whenever you see a low waist saree, thank Sushmita for the trend which got her much recognition. Not the best, yet one of the effective actresses in the Bollywood, Sen made her presence felt in the industry for quite some time. She deserves all or love and respect for she is the first woman from India to win the Miss Universe crown.
Sushmita Sen Images