Sunny Leone: Sassiness Personified!
Sunny Leone is the stage name for the actress, Karenjit Vohra, who has been active in the American Porn industry and is now proving her mettle in the Indian film industry. She has taken over the Indian audiences with her regular appearances at the small screens as well as the silver screens. Leone hosts a couple of TV shows on Indian Television and is a regular performer in the Hindi films. Even after a group of people questioning her existence in the B-Town, she has silenced her haters with terrific poise and an outstanding attitude.
Sunny Leone Age, Height, and Other Numbers
Leone has had millions of fans all around the globe. She is known amongst her fans for her curvaceous figure, stunning looks, and extremely sharp features. She has a pair of talkative eyes and the x-factor many can only dream of. Also, she possesses unmatchable hotness that can get any man crazy behind her looks. We decided to decode the extremely hot actress in numbers so that they have very little left to their imagination.
Sunny Leone Body Vitals
Age: 36 years (as in 23rd June 2017)
Height: 5 feet 4 inches, 163 centimeters
Weight: 132 pounds, 60 kilograms
Hair Color: Black
Eye Color: Light Brown
Curves: 38-25-36 (all measurements in inches)
Sunny Leone Family
Leone was born in a Sikh Punjabi family in Ontario. Her father belonged to the Sikh Community and was raised in Delhi. However, she was born in Tibet. Her mother hailed from Himachal Pradesh. The family then shifted to Canada in order to make a living. She has a younger brother, Varun who is a chef by profession. Her family shifted from Fort Gratiot, Michigan to Lake Forest, California in order to fulfill her grandmother's wish of staying together in a joint family. Leone was just 13 when they first shifted to Michigan.
Sunny Leone Biography
Sunny was born on 13th May 1981 in Canada. She claims to be a tomboy in her early childhood days. She played street hockey with boys which made her very athletic. She was admitted to a Catholic school as her parents feared that public school was not safe for her. Later, she completed her degree in pediatric nursing. While she studied to become a nurse, she worked in a German Bakery and then worked at a tax and retirement firm.
The Success Story
Although Sunny had an illustrious career in the porn industry, we tried to mention her success story which is entitled to Bollywood. Not that we write her off because of her career choice, but we are a Bollywood-based site and strive to give detailed information about the Bollywood stars and the happenings in the B-Town.
Leone was all set to make her Bollywood debut in a cameo role in the movie, Kalyug. However, the director couldn't suffice her demands of $1 million for the appearance. Hence, her debut was delayed. It wasn't much longer before she appeared as a red carpet reporter at the MTV India awards. She was then seen small roles in Hollywood films and videos like The Girl Next Door, Livin' it up, Wild on, and My Bare Lady 2.
According to Leone, many Indie filmmakers had approached her to act in their films but she denied the offers as she felt uncomfortable with the roles as well the money offered. Leone continued to work in Hollywood as she landed in films like Middle Men, Virginity Hit, and Pirates Blood.
Thank You, Big Boss for giving Sunny to Bollywood!
Meanwhile, she hosted many shows in the United States and was an integral part of promotions for a fitness brand. In 2011, she appeared on the Indian Television show titled Big Boss. Her entry in the house created a huge stir while people in the country took the internet by storm. There were complaints lodged against the channel, producers, and the actress as they believed that the inclusion of Leone in the Big Boss house promoted pornography in the country.
It was on the show that Mahesh Bhatt approached the actress to work in Jism 2 which she instantly approved. However, the critics were far from receiving the film in a positive manner. The film was on point in terms of its commercial success. She was then seen in Ragini MMS 2 which turned out to be a box office hit.
Within no matter of time, Sunny became one of the most sought actresses in the Bollywood. She was thrown to the screen to bring the X-factor in the movies. She acted in a plenty of movies like Jackpot, Ek Paheli, Kuch Kuch Locha Hain, Mastizaade, and much more. However, she has received mixed to negative reviews from the critics for most of her movies.
She has played cameo roles in many famous movies alongside famous actors. She was seen in cameo appearances in films like Singh is Bling, Noor, and One Night Stand. Here is a list of Hit films Leone has acted in.
Sunny Leone Hit Films
Jism 2 (2012)
Ragini MMS 2 (2014)
Ek Paheli Leela (2015)
Hate Story 2 (2015)
Kuch Kuch Locha Hain (2015)
One Night Stand (2016)
Apart from her seductive roles in the Bollywood, she has taken over the world of item numbers. She has danced her way through in several item songs giving spectacular hits. Most of the songs she has performed in have hit the Indian chartbusters. No wonder, directors try to fit in a song just to make Sunny dance in it. Here is a list of songs in which Sunny Leone get the temperature soaring.
Sunny Leone Hit Songs
Ijazat, One Night Stand (2016)
Yeh Kasoor, Jism 2 (2015)
Ishq Da Sutta, One Night Stand (2016)
Chaar Bottle Vodka, Ragini MMS 2 (2014)
Pani Wala Dance, Kuch Kuch Locha Hain (2015)
Rom Rom Romantic, Mastizaade (2016)
Pink Lips, Hate Story 2 (2014)
Saiyaan Superstar, Ek Paheli Leela (2015)
Baby Doll, Ragini MMS 2 (2014)
Laila, Raees (2016)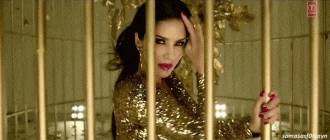 Likes, Dislikes, and More
Leone is a strong advocate of fitness and gives time to her fitness even in her packed schedules. She loves hitting the gym. Her other hobbies include horse riding, sky diving, abstract painting, and cooking. She loves to travel and wishes to own a diamond and a lingerie company. Also, Sunny is an avid reader and gives time to her books whenever she is free.
Favorite Food: Lasagne, Lime Fish with sliced chilies, paranthas, Pizzas, and Pasta
Favorite Superstars: Aamir Khan, Marilyn Monroe, Anushka Sharma, and Madhuri Dixit
Favorite Movies: Dil and The Goonies
Favorite TV Show: Chuck
Favorite Musicians: Talor Swift, Selena Gomez, and Justin Bieber.
Favorite Songs: Wildest Dreams by Tay-Tay, Sorry by JB
Favorite Sports: Hockey and Soccer
Favorite Color: Red
Favorite Destination: Florence and Los Angeles
Favorite Designer: Alexander Macqueen.
Sunny in the Soup of Controversies
Whatever may be the case, the bold has always been in the wrong books of activists in India. Sunny was no different from it. She was seen kissing a co-star, Sandhya Mridul in the film, Ragini MMS 2. India and its moral police stood to their reputation by dragging the stars to the court. Not only that, the protestors raised ugly slogans against Leone and forcefully condemned the movie.
Kapil Sharma was reluctant to invite the sexy superstar to his show because of her past as his show had a family audience. However, Leone appeared on the show to promote her film with the producer, Ekta Kapoor.
Sunny continued to be in the soup of controversies as media speculated that she had hit a bad patch with her husband and was about to separate. However, she boldly shut down the accusers by tweeting an outrageous comment. She certainly knows how to silence the haters, doesn't she?
Many religious groups and activists wanted the Censor Board to ban Leone's film, Jism 2 as they felt it spoilt the atmosphere amongst today's youth. Sunny strongly advocated the adult film industry by stating that it isn't a prostitution industry. Now that requires some guts to break the taboos that persist in India, doesn't it?
Relationships, Affairs, and More
Sunny discovered that she is bi-sexual at the age of 18. She has openly admitted of indulging in the first kiss at the age of 13 while losing her virginity at the age of 16 to a basketball player. Being in a steamy industry for a while, she managed to have a lot of relationships. Lexie Marie, Jezebelle Bond, Avana Lee, Daisy Marie, and Dave Navarro were some of the love interests of the pretty actress.
She was once dating the vice president of Playboy, Matt Erikson in 2008. However, with growing differences, both decided to put a stay on their relationship. It is also believed that the actress dated the world famous comedian, Russell Peters for a while in 2008. The relationship could not work out and ended on good terms.
Finally, Leone found the love of her life in Daniel Webber. They dated for a while before marrying on 20th January 2011. They seem to be inseparable as both share an intense bond. Even with packed schedules, they don't miss a chance to spend time with each other. Also, it is believed that she doesn't sign any film before letting her husband read the script. Now that are some serious relationship goals, aren't they?
Sunny's Money
Leone has become the heartthrob sensation of the nation ever since she has appeared in the Indian media. She has earned a hefty amount of money from her film fees. With time and fame, she has managed to cling on to some high profile brand endorsements. She is the poster girl of several brands. To add to her bank balance, she is heavily paid by organizers to perform at private events and award functions. She is the owner of her website and also owned an adult film production line.
Sunny Leone Net Worth
The estimated net worth of the hottest property of Bollywood at the moment is calculated at $3 million. It is believed that the sizzling Sunny charges around 4-6 crores per film. Also, she has been the most sought actress by the directors at the current moment. Sunny loves the luxury and comfort of a car and owns a wide variety of them. Recently, she received a Maserati as a gift from her husband.
Car Collection: Audi A5, BMW 7 Series, Maserati Quattroporte
 The Social Media Buzz
She was the most searched celebrity of 2017 on Google in India surpassing big personalities like Narendra Modi, Salman Khan, Sachin Tendulkar, and much more. She claimed the achievement in its previous year too. That itself defies the craze and aura of the angelic actress. She is nothing short of being called the hottest woman to grace the Bollywood fraternity.
She is followed by 9. 71 million users on Instagram where Sunny keeps her fans updated by the username @sunnyleone. Also, she is constantly buzzing on the Twitter with 2.11 million followers. Her Twitter handle goes by the username @SunnyLeone. With an ocean full of fan following and topping the list of most searched celebrity in India, Leone is a star with a lot of shimmer and glimmer.
Awards, Accolades, and Recognitions
However popular she has been in the last 3 years in the B-Town, she has failed to give an illustrious performance as an actress. With all due respects to her hotness, she hasn't proved her mettle in the industry as an actress. Although, there is no denying the fact that she rules the world of item numbers. She hasn't won any awards in the B-Town till date, but a few awards early in her career in the United States helped her gain popularity.
Sunny Leone Awards
Penthouse Pet of the month (2001)
Penthouse Pet of the year (2003)
Hustler Honey (2006, 2001)
If one is allowed to set the parameters of hotness, Sunny Leone is surely going to be the epitome of it. She is by far the sexiest actress Bollywood has ever seen. Although she is yet to give a stellar performance in the film, she has proved her dominance over the item numbers. Not only she is bold, but she is fierce, and courageous which sets her apart from her other counterparts. With many films lined up for the actress in coming years, this item girl is surely going to rule supreme over the Bollywood.