Saif Ali Khan: The Nawab of Bollywood
Saif Ali Khan is one of the most prominent figures in the Bollywood. He makes several appearances in Hindi films and is one of the biggest actors of the past decade. He also owns a production house that has been responsible for mega releases in the past few years. He is considered as the Nawab of Bollywood due to his connections with the royal families. A recipient of several prestigious awards and a national award, Saif Ali Khan has cruised his way to make a name by acting in several romantic comedies, and action thrillers.
Saif Ali Khan Age, Height, and Other Numbers
Saif Ali has come a long way in the highly competitive realm of Bollywood with his excellent comedy timings and decent acting skills. He has maintained a good physique throughout his career in the Bollywood. Here is a complete trump card that jots down all the numerical statistics about the prolific actor at one place.
Saif Ali Khan Body Vitals
Age: 46 years
Height: 5 feet 8 inches, 173 centimeters
Weight: 78 kilograms, 172 pounds
Chest: 42 inches
Biceps: 16 inches
Waist: 32 inches
Hair Color: Black
Eye Color: Brown
Saif Ali Khan Biography
Saif Ali Khan was born on 16th August 1970 in the capital of India, New Delhi. He attended the Lawrence School in Himachal Pradesh until the age 9. He was later moved to complete his schooling from the Lockers Park School in Hertfordshire. He completed his further college education from the Winchester College and regrets of not taking advantage of the available resources to study hard and get enrolled in the famous universities of Oxford or Cambridge.
Once he had completed his university education, he flew back to his hometown to work in an advertisement firm. He was then spotted by one of their family friends and insisted him to model for Gwalior Suiting. During the shoot, Saif was recognized by one of the directors, Anand Mahindro who featured him in his movie. Although the film was shelved, the entire episode inspired Saif to fly to Mumbai to persuade a career in the glamorous realm of Bollywood.
Saif Ali Khan Family
Saif Ali Khan was born to a former Indian Cricket team captain, Mansoor Ali Khan Pataudi and the talented actress, Sharmila Tagore. Sharmila Tagore is regarded as one of the path-breaking, trendsetting actresses of all time in the Bollywood. She claims of her son, Saif being very notorious and difficult to handle in his early childhood days. Khan was born in a mixed ethnic family of Half Bengali from his mother's side and partially Pashtun from his paternal side. He has two younger sisters, Soha and Saba. Soha has featured in some Hindi Cinemas and has also directed a few of them.
Saif Ali Khan Filmography
Khan was set to feature in his first film, Bekhudi opposite debutant Kajol. But due to Saif's indecency and unprofessional behavior, the director replaced him with Kamal Sadanah just after the first shooting schedule. Saif finally made his debut with Yash Chopra's directorial venture, Parampara. The actor was seen for the first time sharing the screen with Aamir Khan. The film faded at the Box office and couldn't gather much commercial success. Saif then featured in Aashiq Awara and Pehchan in 1993. Both films flopped but Saif managed to cling onto his first award of his career.
Saif came into the limelight after appearing in two critically and commercially successful movies, Yeh Dillagi and Main Khiladi Tu Anari. The movies featured him and Akshay Kumar and their performances were well received by the audiences. After a decent start at the Box office, Saif featured in a total of 9 films in 90's. None of them performed to the expectations. Many thought Saif's career was on the verge of decline and it was just a matter of time to see him fade from the Bollywood scene.
After a series of 4 unsuccessful years, Saif Ali Khan revived his career with a string of few successful films in 1999. He featured in a total of 4 films in that year. Hum Saath Saath Hain, Kacche Dhaage Aarzoo, and Mumbai Meri Jaan, all performed exceedingly well at the Box office. He had by then established his name in the film industry as one of the famous celebrities of Bollywood. He hasn't been able to maintain the consistency in the arena but has given super-hit films time to time in his blusterous career.  Here is a complete list of movies in which the Chote Nawab exhibits his exuberant acting abilities.
Saif Ali Khan Hit Films
Dil Chahta Hain (2001)
Kal Ho Na Ho (2003)
Omkara (2006)
Hum Tum (2004)
Love Aaj Kal (2009)
Parineeta (2005)
Hum Saath Saath Hain (1999)
Main Khiladi Tu Anari (1994)
Cocktail (2012)
Kacche Dhaage (1999)
Race 2 (2013)
Aarakshan (2011)
Go Goa Gone (2013)
Rehna Hain Tere Dil Mein (2001)
Not that he can dance, but he can shake his leg to a level above decency. He has featured in many songs that have been an instant hit amongst the audiences. He has enthralled the audiences with outstanding performances in some of his songs. Here is a complete of few hit songs from the famous Khan. Wow! (Saif's Style)
Saif Ali Khan Hit Songs
Ole Ole, Yeh Dillagi (1994)
Tumhi Ho Bandhu, Cocktail (2012)
My Dil Goes Mmmmm, Salaam Namaste (2005)
Paas Woh Aane Lage, Main Khiladi Tu Anari (1994)
Party on my mind, Race 2 (2013)
Second Hand Jawaani, Cocktail (2012)
Raabta, Agent Vindo (2012)
Aahun Aahun, Love Aaj Kal (2009)
Dil Haara, Tashan (2008)
Jaaneman Jaaneman, Kya Kehna (2000)
Slowly Slowly, Go Goa Gone (2013)
Allah Duhai Hain, Race 2 (2013)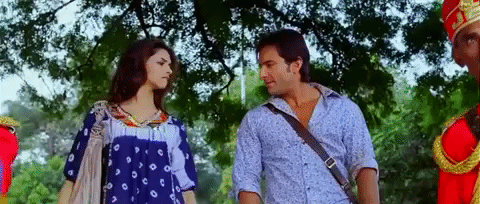 Likes, Dislikes, and more
Saif likes to rock and roll over his electronic guitar. He is a quintessential guitarist and loves hard rock genre to the core. He is also seen performing with his guitar at many stage events. He also loves to read and travel. The actor has a wide range of books at his home. His love for travel has made him travel to many countries around the world.
Favorite Food: Mutton Biryani, Kebabs, Lady Fingers
Favorite Destination: Los Angeles and London
Favorite Superstars: Sharmila Tagore, Robert Di Niro
Favorite Restaurants: Zodiac Grill at Taj Residency in Mumbai
Favorite Author: Leon Uris
Favorite Sports: Polo and Cricket
Favorite Color: Purple and Brown
Favorite Perfume: Chanel Sport and Issey Miyake
Favorite Movies: The Good, the Bad, and the Ugly
Favorite TV Shows: Sherlock Holmes series, The X-Files, 24, Entourage
Favorite Songs: Stairway to Heaven by Led Zeppelin
The Nawab of Controversies Too!
All the Khans in the Bollywood have found a pretty hard time dealing with the controversies. One after another, the controversies keep adding into the famous lives of these actors. Saif has made into the controversy books for all wrong reasons. The ultimate and the sole Nawab of Bollywood has been the Nawab of the controversies too. Here is a complete list.
Saif Ali Khan Controversies
Beating an assistant director of a famous magazine.
Saif Ali Khan was pulled to court by the assistant director, Kanan Divecha after he lodged a complaint against Saif for allegedly beating him up. According to the reports, the actor beat the A.D. because the magazine had linked his ex-wife Amrita Singh with another actor. The matter was pulled to court after a prolonged period that advised the duo to solve the matter on personal terms.
Fight with Ashok Row Kavi.
Ashok Row Kavi is a famous gay activist in the city. He blamed Saif of beating him and his mom because he called Main Khiladi Tu Anari a gay film. The actor didn't like his comment and poor Ashok had to be a part of his aggressive wrath. Saif defended his case by claiming to have beat the activities because he had made fun of his mother, Sharmila Tagore.
Black Buck hunting with Salman Khan.
Few actors from Hum Saath Saath Hain were blamed to have killed two black bucks, which is an endangered animal in the outskirts of Rajasthan. The killing of the animals got the actors in serious trouble after the lower court in Rajasthan charged them under the Wildlife act of IPC. The state Government has since then fought against the accused actors in the higher courts. Eventually, Saif was discharged of all his legal accusations in 2013 after a prolonged battle between the State and the actors.
Beating the hell out of a photographer.
Love Aaj Kal was shot in the villages of Patiala. During the shoot of the movie, Saif lost his temper and assaulted a photographer, Pawan Sharma at Patiala station. The reasons are yet unknown about what made the Nawab so angry.
Brawl with a South African Businessman at Taj in Mumbai.
Saif was involved in a fight with a South African business tycoon inside Taj Hotel in Mumbai. Things got worse for the actor when an RTI activist wanted the Indian Government to take back his Padma Shri which he received in 2010. According to the activist, the Bombay Court had charged the actor with a charge for assaulting a person and therefore, the charge doesn't do any good to the dignity of the prestigious trophy.
Indecent Behavior at the Lucknow Airport.
The officials of the airport had politely asked the actor to leave the premise of the VIP lounge as he was not entitled to occupy the space there. The actor was infuriated and showered the officials with offensive language and misbehavior. The following exchange of words resulted in an ugly brawl which was resolved after the interventions of the senior officials. Well-proven Nawab of Controversies, isn't he?
The Royal Riches
The very fact that he is a Nawab of a princely state in India leaves him with ample of amount of capital to suffice all the royal needs of him and his family for next 100+ years. Nonetheless, he has gathered a lot of recognition and rewards from his career stint at the Bollywood. He has acted in a total of 44 big screen releases (as in 24th April 2017). He endorses many brands at the Indian market that add to his net worth. He owns several properties across the Indian subcontinent and some international countries.
Saif Ali Khan Net Worth
The estimated net worth of Saif Ali Khan is 282 crore rupees. The enumeration is a result of fees from several films, endorsements, a fleet of luxury cars, and a well-worked production house, Illuminati Films. He has a personal investment around 128 crores that qualifies him to the list of one of the richest actors in the industry.
Car Collection: Audi R8 Spyder, BMW 7 Series, Lexus 470, Ford Mustang, Range Rover, Land Cruiser.
Bike Collection: Harley Davidson Fat Boy.
Relationships, Affairs, and More
Saif Ali Khan has been in the news regarding his issues in context to his troubled first marriage. He was married to Amrita Singh at the age of 21. The actress was 6 years older to the veteran actor at the time of their marriage. The actress met the actress on the sets of his first film from which he was thrown out due to his irregularity. The couple has two children together. They were blessed with a daughter, Sara in 1993 and son, Ibrahim in 2001. The couple separated in 2004 due to regular conflicts between the two.
The Race 2 actor was also linked up with an Italian model, Rosa Catalano, but the rumor couldn't catch fire like any usual B-town relationship. Later, it was cited that Bebo, Kareena Kapoor, and Saif were living in together. It certainly became one of the most-talked relationships in the history of Bollywood. The duo tied the knot in January 2012. Saifeena, as they are called by the media, have a son, Taimur who was born on 20th December 2016.
Awards, Accolades, and Recognitions
Saif Ali Khan has been a recipient of numerous awards in his career. From national award to claiming the ever so prestigious Filmfare award, Saif has won all the accolades given to honor the blistering performances of the Bollywood actors. He was awarded a Padma Shri in 2010 for his contributions to the Indian Cinema.  Here is a complete list of awards he has won in his career.
Saif Ali Khan Awards
Padma Shri (2010)
National Film award for the best actor for Hum Tum (2005)
Filmfare award for the best male debut for Aashiq Awara (1994)
Filmfare award for the best supporting actor for Kal Ho Na Ho (2004)
Filmfare award for the best villain Tamil for Omkara (2007)
2 Filmfare awards for the best performance in a comic role for Hum Tum and Dil Chahta Hain (2005, 2002)
Zee Cine Award for the best actor in a supporting role for Hum Tum and Dil Chahta Hain (2005, 2002)
IIFA award for the best supporting actor for Kal Ho Na Ho and Dil Chahta Hain (2004,2002)
Screen award for the best actor for Aarakshan (2012)
IIFA award for the best performance in a negative role for Omkara (2007)
IIFA Award for the style icon of the year (2004)
Filmfare award for the moto look of the year for Kal Ho Na Ho (2004)
Stardust award for the best performance in a negative role for Omkara (2007)
Bollywood Movie award for the best comedian for Dil Chahta Hain (2001)
The actor hasn't been active like his other counterparts on social media platforms. With a firm family background by his back, Saif Ali Khan made a blistering career in the highly competitive realm of Bollywood. He has able to advance through his career with swift gradual movement. Not as famous or popular like his Khan competitors, but Saif Ali Khan has surely had the taste of success in the past decade or so. He will be soon featuring in movies like Chef and Kaalakaandi. We hope the Nawab excels in his roles in his upcoming films and WOW's the audience in his own primitive style.
Saif Ali Khan Images