Rani Mukherji: The Khandala Girl of Bollywood
Rani Mukherji is an Indian film actress who was forced into the Bollywood by her mother for her debut film. She made her first acting debut by playing a supporting role in her father's directorial venture, Biyer Phool. With time, she started gaining popularity on the big screens by acting in several films across several genres. As time passed by, she became the leading face of Yash Raj Productions and persevered her dominance in the Bollywood in the first half of 2000's.  For a long time, she was recognized as one of the highest paid actresses in the B-Town.
Rani Mukherji Age, Height, and Other Numbers
Mukherji came to prominence with her terrific looks and immaculate acting abilities. Not that she had a perfectly numbered figure, but had a curvy one and carried it with absolute grace. Apart from the sharp facial features and exceptional acting abilities, she dazzled the Indian audiences with her stunning pair of eyes and a shimmery bright smile.
Rani Mukherji Body Vitals
Age: 39 years (as in 30/5/2017)
Height: 5 feet 3 inches, 160 centimeters
Weight: 127 pounds, 56 kilograms
Curves: 36-30-35 (all measurements in inches)
Hair Color: Brown
Eye Color: Brown
Rani Mukherji Family
Rani was born in a family with deep roots in the Indian film industry. Her father, Ram Mukherji was the co-founder of the Filmalaya Studios while her mother, Krishna was a playback singer. She has an elder brother, Raja who is also a famous producer and director in the Indian Film Industry.
She is the niece of the former Bengali film actress, Debashree Roy. Also, her paternal cousins include famous Bollywood personalities, Kajol and Ayan Mukherji. Most of the people from Rani's family belong from the Indian Film industry. Despite having a proper Bollywood background, she was reluctant of entering the Bollywood scene as her prime career option.
Rani Mukherji Biography
She was born on 21st March 1978 in Mumbai in a Bollywood-oriented family. She completed her schooling from the Maneckji Cooper High School in Juhu and then went on to complete her graduation in Home Science from the SNDT Women's University. She started practicing the Odissi dance form at the age of 16 and is a trained professional dancer from a very young age.
At the age of 15, Salim Khan offered her the lead role in the movie, Aa Lag Ja Gale which she turned down because of her father's disapproval. However, her mother was up to a suggestion that she takes Bollywood projects as experiments. She then accepted Salim Khan's Raja Ki Aayegi Baraat after her mother's tenacity to act in the movies. She started getting fonder of her acting abilities. Thus, she decided to pursue a full-time career in the shimmery realm of the Hindi Film Industry.
A Stunning Bollywood Career.
She made her Bollywood debut by portraying the role of a rape victim in the movie, Raja Ki Aayegi Baraat. The film couldn't do wonders at the Box office, but Rani's performance in the movie was credited with critical applause from the Film pundits. She decided to turn her head full time in the Bollywood industry after she saw her cousin Kajol flourish in the Bollywood.
Her first lead role was opposite Aamir Khan in the film titled, Ghulam. She was seen in the movie for a very short time but the song in the movie, Aati Kya Khandala proved to be a game changer in the prodigy's career.
Kuch Kuch Hota Hain proved to be a milestone in Rani's infant career in the Bollywood. She shared the screen opposite Kajol and Shah Rukh Khan in the directorial debut of Karan Johar. The film was a blockbuster hit and is regarded as one of the biggest hits of the Indian film industry. The film and its crew received several awards throughout the year and earned critical and commercial success.
Rani had decided that she wouldn't stereotype herself as the regular Bollywood actress playing second fiddle to the male protagonist. Instead, she decided to accept challenging roles and make a big impact on the Indian film industry. For a span of two years, Rani couldn't deliver a single hit film. Apart from a critically accepted performance in Hey Ram, she couldn't exhibit her flair in any of the movies.
The poor spell of Rani's career finally came to a halt after she was signed by Yash Raj productions to feature in a couple of films under their banner. The jinx of flop films was broken with her role in the film titled Mujhse Dosti Karoge where she was featured opposite Hrithik Roshan and Kareena Kapoor. Her best performance in the film till date came opposite Vivek Oberoi in Saathiya. The film was a critical and a commercial success and was an instant hit amongst the masses. She then featured in Chalte Chalte featuring two of the biggest superstars of the B-Town, SRK and Salman Khan.
A blusterous Bollywood stint
The years 2005 and 2006 were the most glorious years of her career. She featured in successful movie projects like Yuva, Bunty Aur Bubli, Hum Tum, Veer Zara, and much more. She was exceptional in Sanjay Leela Bhansali's directorial masterpiece, Black. She was exceptional in the role and matched Amitabh Bachchan's acting proficiency on the screen. The movie was critically and commercially acclaimed and became one of the best movies of the actress's career.
She was again seen in Kabhi Alvida Na Kehna which proved to be on the positive side of the reviews of the masses. Also, Rani was an integral part of the movie, Mangal Pandey: The Rising. After a blusterous stint at the Bollywood for a couple of years, Rani's career went downhill for another lengthened period.
The Decline
She then featured in movies like Saawariya, Baabul, Ta Ra Rum Pum, Thoda Pyaar Thoda Magic, etc., which couldn't impress the critics nor the people. Her status as the top-notch actress started to fade, and the actress decided to take a break from her Bollywood career.
The Comeback
Rani came back stronger with prolific performances in the movies like No One Killed Jessica, Talaash, and Bombay Talkies, and Mardaani. As the time has passed by, Rani has grown particular about choosing the right films with stronger roles and scripts. Here is a list of hit films in Rani's career one should watch in case you question her acting abilities.
Rani Mukherji Hit Films
Hum Tum (2004)
Kabhi Alvida Na Kehna (2006)
Kuch Kuch Hota Hain (1998)
Saathiya (2002)
Yuva (2004)
Black (2005)
Ghulaam (1998)
Veer-Zaara (2004)
Talaash (2012)
No One Killed Jessica (2011)
Mardaani (2014)
Hello Brother (1999)
Apart from her acting skills, she also graced the B-Town with some prolific dance performances. She featured in many hit Bollywood songs and grooved to the music with utmost perfection. Here is a list of songs in which Rani left her impression for years to come.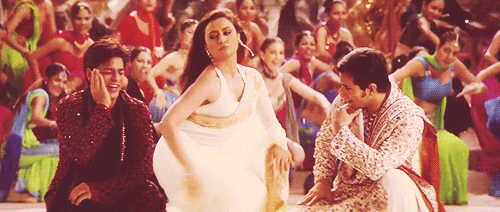 Rani Mukherji Hit Songs
Tauba Tumhare Ishare, Chalte Chalte (2003)
Aga Bai, Aiyaa (2012)
Tu Mere Saamne, Chori Chori (2003)
Kabhi Neem Neem, Yuva (2004)
Dhadak Dhadak, Bunty Aur Babli (2005)
Jaane Dil Mein, Mujhse Dosti Karoge (2002)
Masti Masti, Chalo Ishq Ladaaye (2002)
Aati Kya Khandala, Ghulam (1998)
Tumhi Dekho Na, Kabhi Alvida Na Kehna (2006)
Rani of Controversies
The Secret Wedding
Rani and Aditya Chopra decided to hide their relationship from media for quite a long time. However, the media was too sharp to start speculations about the two. Soon after, the couple affirmed their marriage on 21st April 2014 on the backdrop of Chopra's divorce with his former wife.
Catfight with Simi Garewal
Most of the chat shows are bound to controversies, and this one was no different. Garewal was bold enough to ask Rani about her secret relationship with Aditya Chopra. Rani got furious and responded the actress with the fury of words and allegations. She claimed of knowing many things about the host she didn't wish to speak about it on camera. However, all the cat fight was deleted from the aired show due to the insistence of Mukherji.
Dating the married Govinda
The hit on-screen couple was reported to be seeing each other during the filming of Had Kar Di Aapne. The couple was so into each other that Govinda spent a plenty of money on buying cars, diamonds, and other costly gifts to Rani. However, with time, the relationship faded and couldn't have a fruitful future.
The cold war spree
Rani was reported to have cold wars with several B-Town actors. The list includes famous faces like Aishwarya Rai, Jaya Bachchan, Vivek Oberoi, and her own cousin sister, Kajol.  The reasons with many, but Rani somehow managed to come out of the controversies at the right time.
Likes, Dislikes, and More
Favorite Superstars: Big B, Shah RUKH Khan, Sharmila Tagore, and Sridevi
Favorite Films: Titanic
Favorite Color: Blue and Red
Favorite Destination: Sikkim, India
Favorite Perfume: Polo Sport
Relationships, Affairs, and More
Rani and Govinda were reported to be in a relationship during their successful stint on the big screens. However, with Govinda's marital status, the relationship couldn't go that extra yard.
According to the reports, Rani and Abhishek Bachchan grew intimately close with each other on the sets of Yuva. Contrarily, Junior Bachchan's mother didn't like his son's choice as she thought she was too loud. Abhishek then snubbed Rani to marry Aishwarya Rai.
Her relationship with the famous producer and director, Aditya Chopra raged controversy. The relationship was kept secret for a long time until the duo married each other in Italy on 21st April 2014. The couple has a daughter together named Adira.
The Money in the Bank
The queen of million hearts has stunned the Indian audiences with excellent performances over the course of time. With prolific performances, she has accumulated a plenty of money during her successful stint in the Bollywood. She has acted in several Hindi movies and is a face if many national brands in and around the country.
Rani Mukherji Net Worth
The estimated net worth of Rani Mukherji is calculated at $25 million. She charges around 2-4 crore rupees per film and was one of the highest paid actresses during her prime time. She is a frequent performer at several award functions, TV shows, and has been a judge of many TV reality shows.
Car Collection: Audi A8 W12, Mercedes Benz E- Class
Awards, Accolades, and Recognitions
Rani has won a staggering 255 words in her lengthened spell at the Bollywood. Apart from the astounding number of awards, she has been nominated 365 times in her entire career. She has baffled the Indian audiences with stunning performances over the course of time. Here is a complete list of awards Rani has won during her career.
Rani Mukherji Awards
Filmfare awards for the best actress for Black and Hum Tum (2006, 2005)
Filmfare awards for the best-supporting actress for No One Killed Jessica, Yuva, and Ghulam(2012, 2005, 2009)
Filmfare critic awards for the best actress for Black, and Saathiya (2006, 2003)
Zee Cine Award for the best actress for Black and Hum Tum (2006, 2005)
3 IIFA awards for the best actress for Kabhi Alvida Na Kehna, Black, and Hum Tum (2007, 2006, 2005)
Stardust award for the actor of the year female for Black (2006)
IIFA award for the best-supporting actress for Veer-Zaara (2005)
Stardust award for the best actress in a thriller role for Mardaani (2014)
Guild award for the best actress in a leading role for Black (2006)
IIFA fresh face of the year award (2004)
Bollywood movie award for the best actress for Hum Tum (2005)
Bollywood movie award for the best actress in a supporting role for Yuva (2005)
Bollywood movie critics award for the best actress in a leading role for Saathiya (2003)
Indian Telly Award for the best TV ki Rani (2009)
Big star most entertaining actor in a social role for No One Killed Jessica (2011)
Rani has been an instrumental actress in changing the Bollywood's vision of how they looked in the Indian Cinema. She is one of the famous faces in the Bollywood arena and rocked her way through as the leading faces. She is an incredible powerhouse of talent and bamboozled the Indian masses with stunning performances. Although she has cut down on her roles in the recent times, her choice of films has been outstanding.
Rani Mukherji Images