Paresh Rawal: Bollywood's Beloved Babu Bhaiya
Paresh Rawal is an Indian film actor who is a frequent performer at the Indian Cinema and Theaters and has proved his prominence with magnificent versatility in the roles he portrays. A versatile actor as he is, he has reigned the comedy world of Bollywood. Just like his proficiency to play comic roles with extreme suaveness, he has excelled in villainous roles too. With an outstanding number of films in the Hindi film arena, he has been an inspiration to many aspiring actors. The excellence that he has exhibited throughout these years in the film industry is unmatched. Very few actors can reach the epitome of success that he has achieved throughout his career.
Apart from being an incredible actor, he is an elected Member of the Loksabha of the Indian Parliament. He contested the elections from the Bhartiya Janta Party in 2014. Also, he has worked in films across several languages in the nation. He has worked in Telugu, Gujarati, and Tamil films as well.
Paresh Rawal Biography
Paresh Rawal was born on 30th May 1947 in the glamorous city of Mumbai. He completed his early schooling from a local school in Mumbai from the SSC board. Later, he was admitted to Narsee Monjee College of Commerce and Economics, from where he completed his graduation in Commerce. An exceptional actor as he is did not come into the limelight until the early 90's.
Paresh Rawal Family
Rawal was born in an out and out Gujarati family who hailed from Gandhinagar in Gujarat. His father's name was Dahyalal Rawal, who was a small-time businessman while his mother was a homemaker. He did not have any family connections with the industry before he made his name for himself in the industry.
Paresh Rawal Height, Weight, and Other Numbers
Well, needless to say, that you don't need six pack abs and bulky muscles to outshine the odds in the Bollywood. Talent can do the talking, and this is the case with prolific Paresh Rawal. Nor does he have bulky muscles, neither does he rely on the cuteness of his face to dazzle on the screens. He has excelled in all aspects of acting with extreme normalcy. Even then, we decided to mention about his physical attributes. Just in case his fans need to know him better.
Paresh Rawal Body Vitals
Age: 67 years (as in 6th June 2017)
Height: 5 feet 8 inches, 173 centimeters
Weight: 172 pounds, 78 kilograms
Chest: 42 inches
Waist: 34 inches
Biceps: 13 inches
Hair Color: Grey and Black
Eye Color: Dark Brown
Excellence Personified
Rawal stepped into the film industry with a supporting role in 1985 in the movie, Arjun. He followed his debut with an outstanding performance in the movie, Naam. Rawal cemented his position in the industry with a tag of one of the most talented and illustrious actors in the Bollywood. He then appeared in more than 100 films in just a span of a decade. The number itself was an achievement, but he topped it up with tremendous performances as villains in the years spanning from 1980's to 1990's.
The films in which he excelled as an actor in that decade were Kabzaa, King Uncle, Ram Lakhan, Daud, and much more. In 1990's, he played a double role in the cult comedy, Andaaz Apna Apna where he shared the screen with Bollywood's most popular Khan's, Aamir Khan and Salman Khan. Although Rawal had cemented his position in the Indian film industry, he was still stereotyped as a character role and directors were reluctant to sign him as the main lead.
Hera Pheri redefined his career and gave the confidence to the directors to cast him as the lead protagonist. The movie is regarded as one of the best comedy movies to grace the Bollywood fraternity. Insane slapsticks, exceptional comic timing, well-written characters, and incredible acting is what made the film reach the epitome of success. Rawal's role of Babu Bhaiya in the film is still credited as one of the best comedy characters to surface on the big screens of Bollywood. He played the same character in the sequel to the film which was also met with much appreciation from the crowd and the critics.
We saw a swift transition in Rawal's choice of roles. As time passed by, Rawal got more inclined towards doing comedy-centric roles rather than playing villainous characters. He was again featured as the main lead in the movie, Aankhen where he went shoulder to shoulder with excellent actors like Amitabh Bachchan, Sushmita Sen, Akshay Kumar, Arjun Rampal, and Aditya Pancholi.
He was then seen many hit comedy movies like Hulchul, Hungama, Garam Masala, Dewane Huye Pagal, Malamal Weekly, Golmaal: The Fun Limited, and several others. Rawal played some memorable roles in some of the movies above. Even though he wasn't the main lead in many of these movies, his acting prowess had the ability to carry any movie on his back.
He was again above par in the movie, Paresh Rawal which challenged the definition of God. He was seen in a role he had earlier played in a Gujarati play from which the movie was inspired from. The movie was much loved by the audiences as well as the critics. He was seen in a much serious role back in 2010 in the movie, Aakrosh.
In total, Rawal has been a part of more than 400 films in the B-Town. He will soon be seen in Sanjay Dutt's biopic and another movie titled Tiger Zinda Hain. A proven star, and an incredible human being, Rawal continues to thrill his fans with stupendous performances time and again. Here is a list of some of the best movies in Paresh Rawal's career.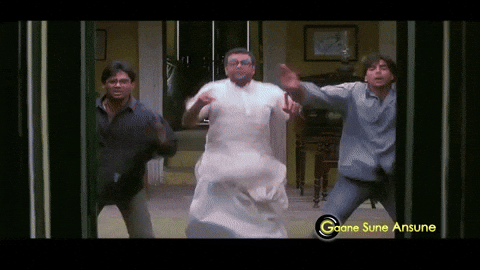 Paresh Rawal Hit Films
Hera Pheri (2000)
Phir Hera Pheri (2006)
Hungama (2003)
Andaz Apna Apna (1990)
Malamaal Weekly (2006)
Garam Masala (2005)
OMG- Oh My God! (2012)
Golmaal: Fun Unlimited (2006)
Aankhen (2002)
Bhaagam Bhag (2006)
Bhool Bhooliya (2007)
Mohra (1994)
Sir (1993)
Kabzaa (1988)
Politically Right!
Paresh Rawal contested the general elections of Lok Sabha held in 2014 from Gujrat's Ahmedabad East area. He won the election easily leaving behind his competitors by major vote count. As a result, he is now a Bhartiya Janta Party's member of the Parliament. Also, he is an integral part of the party and so called NaMo brigade.
Likes, Dislikes, and More
Rawal is a firm practitioner of Hinduism. He is glued to Yoga and also loves listening to music. He is an avid reader and loves to travel whenever he gets time from his busy schedule. Here is a list of all his favorite things that'll help you know him in a better way. Also, Rawal is an active social worker and has entered the
Favorite Food: Dal Chawal
Favorite Superstars: Kajol, Marlon Brando, Naseeruddin Shah, Amitabh Bachchan, Om Puri, and Akshay Kumar
Favorite Book: One Flew Over the Cuckoo's Nest by Ken Kessey
Favorite Directors: Priyadarshan, Ketan Mehta, Rajkumar Santoshi, and Mahesh Bhatt
Favorite Movies: II Postino: The Postman (1994 Italian Film)
Favorite Politician: Narendra Modi
Subtle and Married
Rawal has been in the B-Town for more than 4 decades. But even then, he has not been involved in any hook ups with any co-stars or counterparts. He has been married to Swaroop Sampat for more than 30 years. Sampat was the winner of the Miss India Contest in 1979. The couple has two sons together, Anirudh and Aradhya.
Paresh Rawal Controversies
Paresh Rawal has somehow maintained a very low-key in the Bollywood. He has not been involved in any controversies as he silently works his way out. However, the actor fell into a controversy after he decided to make an outrageous comment on Arundhati Roy. He was then bashed by the people all around the nation for his aggressive tweet for which he later apologized using the same social media platform.
Rawal tweeted that Roy, a renowned writer, should be hanged on the front of a jeep in Kashmir to face stone pelting done on the Indian soldiers by the Protestants. To that nation rose to the writer's support and bashed the actor on Twitter. Many journalists wrote the actor off and said that it was a poor publicity stunt conducted by Rawal. As time passed by, Rawal apologized by trying to mince his words to settle the rage and the issue. Nonetheless, it was the only time Rawal got into controversy and got severely bashed for it.
The Royal Rawal
Having persisted in the industry for such a long time, Rawal has accumulated a worthy amount of money in his bank accounts. The amount comes from fees of several movies, brand endorsement fees, political career, and some private investments. He has worked in more than 500 films in the Indian film industry and also plays an integral role at Indian Theaters. The amount of success he has earned as an actor is quite reflective of the amount of capital he has earned through his profession.
Paresh Rawal Net Worth
The estimated net worth of this prolific actor is calculated at 79. 40 crore rupees in 2014. It is believed that the actor charges around 30-80 Lacs per film according to the character requirements and the complicacy of the roles. He owns an apartment in the posh locality of JVPD Juhu in Mumbai. He has been a successful producer with several serials on the leading channels of Indian television. He has produced serials like Teen Bahuraaniya, Main Aisa Kyun Hu, and Laagi Tujhse Lagan which were aired on Zee Television, Sahara One, and Colors channel respectively.
Cars in the Garage: Innova- 2007, Hyundai i10 Grand Asta
Awards, Accolades, and Recognition
Paresh Rawal has won several awards throughout his career. Well, his greatness in the film industry cannot be justified with awards. But when the awards speak volume for someone who has played the second lead in his entire life, they become worth mentionable. Such is the case with Paresh Rawal's trophy cabinet. He has had his hands on most of the trophies that he can possibly can. Thus, we took a look at his cabinet, and here is what we found.
Paresh Rawal Awards
Padma Shri Award (2014)
National Film Award for the best actor in a supporting role for Sir & Who Chokri (1994)
Filmfare Best Actor in a negative role for Sir (1993)
Filmfare best actor in a comic role for Hera Pheri (2001)
Filmfare best actor in a comic role for Awara Paagal Deewana (2003)
Star Screen Award for the best supporting actor for Raja (1996)
Star Screen award for the best comedian for Hera Pheri (2003)
Star Screen award for the best comedian Awara Paagal Deewana (2003)
IIFA award for the best actor in a comic role for Hera Pheri (2003)
Zee Cine Award for the best actor in a comic role for Awara Paagal Deewana (2003)
The Social Media Buzz
The 67-year-old veteran is insanely active on Twitter and tends to use the account to keep daily updates, communicate with the masses, and speak his mind about socio-political issues. He uses the short messaging site by the username @SirPareshRawal. He has 272k followers on twitter. However, Rawal is not be seen on any other social media platforms like Facebook, Instagram, or Snapchat.
— Paresh Rawal (@SirPareshRawal) June 4, 2017
One of the most versatile actors to ever grace the industry, an actor who equally outclassed the villainous roles just like the light-hearted comic ones, Rawal leaves a defying impression of his work in the Hindi film arena. Also, he has taken the Gujarati Theater by storm with stupendous on-stage performances. The work ethic and character study that goes behind creating iconic characters like Babu Bhaiya, Teja, Sir, the double roles of Ram Bajaj and Shyam Bajaj, and several other roles like ones in Chachi 420 etc. is immense. He had the ability to carry the entire film on his shoulders. Such was his aura that he blew life in the most boring scripts.
An early Bollywood career where he just exhibited is villainous side was instantly switched by accepting comic roles in the latter stages. He has showcased his versatility by accepting challenging roles which very few in the industry could pull off as effectively as Rawal. Paresh Rawal has created a wonderful era of himself, and our generation can hardly forget what he gave to the industry: Ye Baburao Ka Stye Hain!