Madhuri Dixit: The Dancing Diva of Bollywood
Madhuri Dixit is an Indian film actress who is predominantly known for her acting and dancing abilities. She has worked in a total of 68 films. She has a record 14 number of Filmfare nominations in her entire career. She has won several prestigious awards including Padma Shri in 2008. The Dhak Dhak girl of Bollywood fascinated the audience with her incredible dancing style in the early 90's and 2000's. One of the finest actress and dancers in the Bollywood ever, Madhuri Dixit still continues to rule people's hearts with her gorgeous looks and incomparable persona.
Madhuri Dixit Age, Height, and Other Numbers
The dancing sensation has jaw-dropped her audiences with her good-looking face and an implausible figure. She has a beautiful set of eyes which can express the strongest of emotions through them. Age is just a number for Madhuri Dixit. Even at 49 years of age, she manages to look pretty just like a woman in her early 30's.
Madhuri Dixit Body Vitals
Age: 49 (as in 6th April 2017)
Height: 5 feet 4 inches, 163 centimeters
Weight: 56 kilograms, 123 pounds
Hair Color: Black
Eye Color: Brown
Curves:  36-27-25 (all measurements in inches)
Madhuri Dixit Biography
Madhuri Shankar Dixit was born on 15th May 1967 in Mumbai. She was born to dance and nurtured her hobby right from her early childhood days. She was attracted to dancing right at the age of 3. She completed her schooling from the Divine Child High School in Mumbai. She then tried to carve a career in microbiology from Mumbai University. Madhuri Dixit later learned Kathak and is a well-trained professional Kathak dancer. She is also a trained taekwondo martial artist.
Madhuri Dixit Family
She was born in a typical Marathi Brahmin family to Shankar Dixit and Snehlata Dixit. She was raised along three other siblings, Ajit, Rupa, and Bharati. She married Dr. Shriram Madhav Nene on 17th October 1999. She had met the doctor through her brother, Ajit. The duo has two sons together, Raayan and Arin. Amidst the glamorous life in the Bollywood, the most beautiful woman on the earth according to M. F. Hussain has managed to keep a low-profile in the industry.
Breaking into Bollywood isn't easy, is it?
Madhuri had been a top-line model for many years, yet overlooked by many filmmakers in the industry. She featured in a TV series in 1984, but the series failed to impress the channel owners. Hence, it couldn't go on air because it was not good enough.
Madhuri Dixit Filmography
Madhuri Dixit's first movie was Abodh opposite Tapas Paul.The movie was a disaster at the Box Office but Madhuri received the much-needed recognition from the film. She signed many films after her debut which all went on to crash at the Box office. She starred in 9 films after her debut and all of 9 films received a bad fate. Movies like Mohre, Hifazat, Uttar Dakshin, Dayavan, Swati, Manav Hatya, and Awara Baap all failed to impress the audiences as well as the critics.
Overnight Stardom with Tezaab
The beautiful actress had to struggle to find a perfect film that'd cement her position as the leading actress in Bollywood. Finally, with Tezaab she received much-needed fame and stardom. Her song Ek Do Teen from Tezaab was an overnight sensation. It is one of the most iconic dance numbers in the history of the Indian Cinema. Not only she danced like a star, but Madhuri looked angelic in the movie. Her acting flair was simply superb. She received her first Filmfare nomination for Tezaab. The movie headlined to be the highest grossing movie of 1988.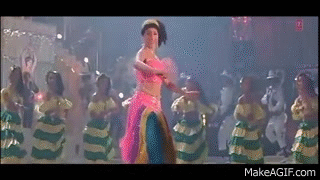 After the success of Tezaab, Madhuri featured in several films making a strong impression in each of them. She established herself as a commercially successful actress. She time and again proved her acting prowess in the entire decade. She was the most desired actress in the early 90's. The veteran took Bollywood by storm with her outstanding performances. She garnered praises all around the industry for her incredible acting and dancing skills. She made strong appearances in movies like Ram Lakhan, Dil Toh Pagal Hain, Hum Aapke Hain Kaun, and Saajan. She worked with all the upcoming superstars like Salman Khan, Aamir Kahn, Shah Rukh Khan, Ajay Devgan, and Sanjay Dutt with immense success.
Madhuri Dixit Hit Movies
Raja (1995)
Tezaab (1988)
Anjaam (1994)
Saajan (1991)
Devdas (2002)
Dil (1990)
Hum Aapke Hain Kon (1994)
Dil Toh Pagal Hain (1997)
Khalnayak (1993)
Beta (1992)
Pukaar (2000)
Ram Lakhan (1989)
There is no doubt questioning her dancing abilities. She was, is, and will always be remembered for the way her feet moved. The eccentricity coupled with those killer expressions is unmatchable. For us, there can never be another Madhuri Dixit. Such was her charm that she was attached to hearts of the masses. She was a sole inspiration to many upcoming dancers. Here is a list of songs in which Madhuri Dixit proves her dominance in dancing.
Madhuri Dixit Songs
Ek Do Teen, Tezaab (1988)
Chane Ke Khet Mein, Anjaam (1994)
Ghagra, Yeh Jawaani Hain Dewaani (2013)
O Priya Priya, Dil (1990)
Are Re Are Re, Dil Toh Paagal Hain (1997)
Koi Ladka Hain Dewaana, Dil Toh Paagal Hain (1997)
Kay Sera Sera, Pukaar (2000)
Dola Re Dola, Devdas (2002)
Didi Tera Dewar Deewana, Hum Aapke Hain Kaun (1994)
Bholi Si Surat, Dil Toh Paagal Hain (1997)
Aa Ja Nachle, Aa Ja Nachle (2007)
Likes, Dislikes, and More
There is no surprise that Madhuri loves dancing. She practices Kathak even today. In fact, she also teaches dancing online through a set top box service. Madhuri is fond of reading books, a hobby she has developed right from her early teenage.
Favorite Food: Kande-Pohe, Jhunka Bhakari, Modak
Favorite Superstars: Gregory Peck, Balraj Sahni, Ingrid Bergman, Madhubala, Nargis, Meryl Steep
Favorite Movies: Chalti Ka Naam Gaadi, Padosan, Ganga Jamuna, Sholay, All About Eve, Gone With The Wind, Roman Holiday
Favorite Destination: Maldives
Favorite Book: A quiver full of arrows by Jeffery Archer
Favorite Color: Orange
Favorite Sport: Tennis
Favorite Fragrance: Nina Ricci, Issey Miyake
Affairs, Relationships, and More
It is believed that Madhuri's father didn't like the growing proximity between his daughter and Sanjay Dutt. The duo was allegedly dating but not to the likings of Madhuri's dad. He was disappointed because Sanjay was still married to Richa Sharma. Madhuri called it quits after Sanjay was arrested under TADA IN 1993. Just after the split, Madhuri was linked up with her co-star, Anil Kapoor. The duo worked in many films together, and their chemistry worked wonders. Owing to their on-screen chemistry, it was rumored that the duo was in a relationship for a very long time.
Madhuri was married to Shriram Nene on 17th October 1999. Her husband is a cardiovascular surgeon from California. The couple has two children together and seems like a happily married couple.
Dhak Dhak Girl into Controversies
Longer the career, more are chances of being under the wrath of controversies. That has been the scene with Madhuri also. Though known for her calm and composed nature, Madhuri has bagged quite a few controversies in her lengthened successful career.
Madhuri Dixit Controversies
Creepiest Kissing Scene Ever
Madhuri was involved in a lip-locking scene in the movie, Dayavan. She was accused of kissing an actor 20 years older to her. Not only that the entire kissing scene looked creepy and Madhuri herself has admitted that she should've avoided it altogether.
Cold Catfight with Sridevi
Sridevi, who was at the peak of her career, was insecure of our Dhak Dhak girl getting fame overnight. The duo shared a hate-hate relationship and considered each other fierce rivals.
Another Cat-fighter, Juhi Chawla
The duo worked with each other in a film, the relationship between the two was pretty bitter. Both ladies tried extremely hard to outperform one and another at the Box-office. Now, that kind of rivalry is good for personal growth.
Diva Tantrums
Maharashtra Government called her too pricey when they offered her the ambassadorship of Maharashtra. She asked 9 crores from the state government which was too high for a budget. Later, Hrithik Roshan replaced her as the brand ambassador.
Madhuri in the Maggi Soup
She was slammed by various consumer forums for endorsing an unhealthy brand of noodles. Many administrations even threatened her to put her behind bars. There were other big names like Amitabh Bachchan and Preity Zinta involved in the same controversy.
Madhuri's Kitty
Successful careers in Bollywood are prone to huge money; Madhuri's case is no different. She was one of the highest paid actresses in the 90's. The famous celebrity led the way of the leading ladies in the Bollywood. Madhuri was so much desired by the filmmakers that she was paid more money than Salman Khan for Hum Aapke Hain Kaun.
Madhuri Dixit Net Worth
Madhuri's estimated net worth is $35 million. She was one of the highest paid celebrities of her time. Now she charges around 4-5 crores per film. She judges one of famous TV Shows on Colors for which she charges 25 crores annually. She is the brand ambassador for many products in India including big names like Oral-B, Olay, and Nestle Maggi.   She has a wide range of cars and leaves with her Husband in Mumbai.
Cars Collection: Skoda SUV Diesel
Awards, Accolades, and Recognitions
Who needs awards when you're as famous and celebrated as Madhuri Dixit? There is no stone left unturned by this stunning actress. Not only she has won a million hearts, but also she has had her hands on most probably all the awards possibly given to honor the Indian Film actresses.  With a record 14 times Filmfare nominations, Madhuri has managed to win the prestigious trophy 6 times in her entire career. She has won 25 accolades of her 43 nominations in overall competitions. Don't her numbers speak volume?
Madhuri Dixit Awards
4 Filmfare awards for the best actress for Dil, Beta, Hum Aapke Hain Kaun, Dil Toh Pagal Hain (1990, 1992,1994, 1997)
Padma Shri (2008)
Filmfare award for the best-supporting actress for Devdas (2002)
3 Screen Award for the best actress for Mrityudand, Raja, and Hum Aapke Hain Kaun (1998,1996,1995)
Zee Cine Award for the best actress for Dil Toh Pagal Hain (1998)
Filmfare special Jury award (2011)
Screen award for the best-supporting actress for Devdas (2003)
Zee Cine award for the best actor in a supporting role for Lajja (2002)
2011 International Film Festival of India
2008 Indian Film Festival of Los Angeles
Social Media Buzz
Madhuri is active on almost all social media platforms. She has 4.22 million twitter followers. She operates her twitter handle by the name of @MadhuriDixit. She keeps updating her day to day activities on Instagram where she has gathered a staggering 5.2 million followers. Madhuri's username on the photo sharing app is @madhuridixitnene. She is also active on Facebook with her facebook page @MadhuriDixitNene.
She also connects with her fans on her personal website that is madhuridixit-nene.com.
The gorgeous Madhuri Dixit proved her dominance in the industry for an entire decade. She has been a sole inspiration for many girls in the country. Her smile would make you forget all the sorrows, and her dance would take you into a dreamland.  Her style, her looks, the way she walked, the way she acted, her dignified persona, her calm and composed nature, her everything oozed for perfection. She did take a voluntary retirement from the Bollywood in 2002 to look after her children but has come back stronger. As the days pass by, she has stunned the Indian audience with her sheer elegance and charm. One of the finest actors and dancers to bless the Bollywood fraternity, there is no denying that Madhuri Dixit will reign in our hearts forever.
Madhuri Dixit Images