Kareena Kapoor: Bollywood's One and only Bebo
Kareena Kapoor, or Bebo as she is known in the industry is an Indian film actress who appears in Hindi films. She is one of the highly regarded celebrities in India. Her popularity status grew in the late 2000's after she appeared in a string of several successful films. She has exhibited a wide range of her acting abilities in the Bollywood thus cementing her place as one of the flourishing faces in the industry.
Kareena Kapoor Age, Height, Weight, and Other Numbers
She has worked on her body time and again according to her roles on the film. She was a chubby kid before she entered the glamorous realm of Bollywood, but with time she achieved a perfect zero-size figure only to lose it for the requirements of other projects. She looked absolutely stunning in the movie, Heroine when she put up a little weight to look slightly busty.
Kareena Kapoor Body Vitals
Age: 36 years (as of 5th March 2017)
Height: 5 feet 4 inches, 163 centimeters.
Weight: 54 kilograms, 119 lbs
Curves: 34-26-35 (all measurements in inches)
Hair Color: Dark Brown
Eye color: Hazel Green
Kareena Kapoor Biography
Bebo was born on 21 September 1980 in Mumbai. She completed her schooling at the Jamnabai Narsee School in Mumbai. She was admitted to Welham Girl's School in Dehradun. After she had completed her secondary education, she flew back to Mumbai to study commerce at the Mithibai College in Vile Parle. Kareena traveled to the US to complete her computer crash course from Harvard Summer School. She came back to pursue her further education from the Government Law college in Mumbai where she inculcated the habit of reading. Just after one year at the college, she thought of changing the career goals and thrived hard to become an actress in the Bollywood. Kareena was later enrolled in Kishore Namit Kapoor's acting academy to enhance her acting skills.
The Kapoor & Daughters
Kareena Kapoor Family & Background
Kareena Kapoor was born to veteran actor Randhir Kapoor and actress Babita. She is the younger of two daughters the Kapoor's have together. Karishma Kapoor, also a household name in the early 90's is her elder sister. She is a half Punjabi from her father side and Sindhi and British descent from her mother's side. Kareena was raised in a mixed cultural family practicing Hinduism. She inculcated catholic morals and values from her mother. Actor and producer, Rishi Kapoor is her paternal uncle while actor Ranbir Kapoor and Riddhima are her first cousins.
Even after surrounded by a healthy Bollywood environment, Kareena's father was adamant about her making her career in the Bollywood. He objectified women to take up household chores and thought that Bollywood harms the traditional maternal duties. Due to the disagreement between her mother and father, the duo separated and Kareena started living with her mother. Her mother took many jobs to raise her daughters. Karishma came into the limelight in early 90's with back to back movies. In 2007, Kareena's parents reconciled and now live together.
It is believed that Bebo was a spoilt rich child in her early days. Kareena's fascination towards Nargis and Meena Kumari's work inspired her to take up acting as a career option.
Bebo in Bollywood
Kareena was signed to make her debut opposite Hrithik Roshan in his father's production venture, Kaho Na Pyaar Hain. After a few days of the film, Bebo left the venture incomplete stating that the director's son was given more importance on and off the screen. She is also seen in a small sequence in the movie. That is due to the sheer carelessness of the editor.
Kareena Kapoor Filmography
Kareena Kapoor First Film
Kareena Kapoor made her Bollywood debut in Refugee in which she shared the screen opposite debutant, Abhishek Bachchan. The actress's performance was well received by the critics. The critics thought she was very natural and confident in the difficult scenes of the movie. Her convincing acting and solid screen presence earned her the first Filmfare.
She featured in multiple films set across various topics after her sensational Bollywood entry. She did movies like Asoka, Ajnabee, Mujhe Kuch Kehna Hain, and Yaadien. All these movies were moderately successful. In fact, none of these movies went well the audiences or the critics. Her performance alongside Akshay Kumar and Bipasha Basu in Ajnabee was received with recognition. Many thought that Kareena had all the qualities to become of the top heroines in Bollywood. She was insanely précised with her acting skills in all of her films.
The Breakthrough Film
Kareena finally got her worth of appreciation from her role in Kabhi Khushi Kabhi Gham. She shared the screen with bigger superstars like Shah Rukh Khan, Hrithik Roshan, and Amitabh Bachchan. Her performance in the film was terrific and amazed audiences with her timely reactions. She had by then become the highest paid actress in the industry. K3G established Kareena Kapoor as one of the leading ladies in the industry.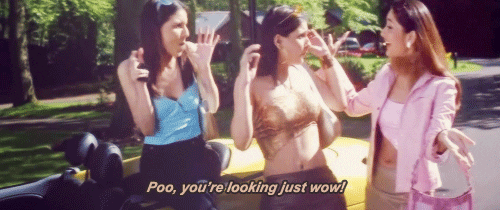 She appeared in many films after her successful stint in the past. In 2002-2003 she started in a total of 6 films which were commercial failures. That didn't hamper her celebrity status as she had already proven her mettle in the competitive realm of Bollywood.
Kareena starred in many films in the following years. While few were huge commercial failures, some of them garnered many critical praises. She has acted in a total of 54 films in her career. Her performance with Shahid Kapoor in Jab We Met was met with immense appreciation from the critics as well as audiences. Kareena also featured in some of the highest-grossing films of all time. She has shared the big screen with the biggest actors in the Bollywood. She was an integral part of Box office sensation Bajrangi Bhaijaan where she played the love interest of Salman Khan. She also featured in Raju Hirani's 3 Idiots which was a commercial success worldwide. The movie grossed 202 crores globally breaking all the box office records at that time. Her performance in Aamir Khan's Talaash was highly appreciated by the critics.
With a huge experience in the Bollywood industry, Kareena has managed to work in few of the most successful movies in the history of the Indian Cinema. Here's a list of all her blockbuster movies.
Kareena Kapoor Movies
Jab We Met (2007)
Kabhi Khushi Kabhi Gham (2001)
Chameli (2003)
3 Idiots (2009)
One (2011)
Bajrangi Bhaijaan (2015)
Bodyguard (2011)
Golmaal 3 (2010)
Talaash (2012)
Udta Punjab (2016)
Singham Returns (2014)
Don (2006)
Ajnabee (2001)
Apart from prolific acting and incredible looks, Kareena has got the temperatures soaring with her eccentric dance moves. She has stunned the audiences with her audacious moves and few songs have made a room in people hearts. Here's a complete list of songs in which Kareena Kapoor has set the stage on fire with her hot dance moves.
Kareena Kapoor Songs
Fevicol Se, Dabangg 2 (2012)
Halkat Jawani, Heroine (2012)
Chhaliya, Tashan (2008)
Chammak Challo, Ra.One (2011)
Zoobi Doobi, 3 Idiots (2009)
Ye Ishq Hain, Jab We Met (2007)
Mera Naam Mary Hain, Brothers (2015)
Aaj Ki Party, Bajrangi Bhaijaan (2015)
You are my Sonia, Kabhi Khushi Kabhi Gham (2001)
Raabta, Agent Vinod (2012)
Bani Bani, Main Prem Ki Dewaani Hu (2003)
Likes, Dislikes, and More
The gorgeous actress is an avid reader and loves her yoga sessions. She also likes swimming and is fond of taking dips in the pools whenever she gets time. Born and brought up in a typical Bollywood family, she has had a long string of royal choices. She is very particular about her favorite things, and always thrives on perfection.
Favorite Food: Spaghetti, Dal-Chawal, Pasta
 Favorite Superstars: Shah Rukh Khan, Nargis, Meena Kumari, Raj Kapoor
Favorite Movies: Kal Aaj Aur Kal, Bobby, Awara, Sangam, Breakfast at Tiffany's, Cat on a Hot Tin Roof, Ben Hur, Love Story
Favorite Destination: Switzerland and London
Favorite Color: Red and Black
Favorite Restaurant: Wasabi at Taj Palace, Hakkasans in London, Olive, Thai Pavilion and Taj Resident
Favorite Perfume: Jean Paul Gaultier's Classique
Scandalous Relationships
Kareena Kapoor Boyfriends, Relationships, and more
Kareena Kapoor has established her name in the Bollywood with bold letters. We all know what persona and beauty she possesses. It is pretty obvious for Bollywood men to fall faces first drooling at the actress. That was the case with many actors she shared the screen with.
It was rumored that Hrithik and Kareena dated for some time before Hrithik got hitched to Susanne. Her relationship with Shahid Kapoor got more fuel due to their leaked scandal. Their relationship was a talking point for a long period of time and provided enough fodder for the news channels to make it vertebrate for few years. Shahid and Kareena's growing insecurities between the two hampered their relationship resulting in the duo splitting up on mutual consent.
Kareena after a gap of a year or so started seeing the ultimate Nawab of Bollywood, Saif Ali Khan. The former dated for a longer period and tied the knot on 16th October 2012. The couple shares a good bond together and has a son, Taimur together. The duo was blessed with Taimur on 20th December 2016.
Controversial Kareena
Kareena has always been on the wrong side of the controversies. Our Bebo has somehow managed to attract controversies like bees are to honey.
The big movie rejections
The actress has rejected few of the biggest blockbuster movies during her initial stages. She snubbed movies like Kaho Na Pyaar Hain, Kal Ho Na Ho, Ram Leela, and much more. She boldly said in an interview that because of her rejection, many people have become big stars. Now, that's rude from Bebo.
Calling Bipasha a Black Cat
Bipasha and Kareena had the boldest of catfights in the industry. When asked about the same in an interview, Bebo made a racist comment by calling Bipasha Basu Kaali Billi. That stirred a lot of controversies in the following months.
The infamous leaked MMS
Kareena was under the wrath of controversies that added a fair bit of dismay to her fame. The famous lip lock scandal freaked media to the extreme.Both the actors later questioned the originality of the video and deemed it as unreal.
Priyanka Chopra Brawl
Whoever sits on Karan's couch is bound to controversy. A huge controversy stirred up when Kareena accused Priyanka Chopra of faking an accent. Priyanka eventually had the last laugh saying that she got her accent from the same place where Saif got his accent from. Burn.
The Royal Touch
Kareena has not only established herself as the leading ladies of Bollywood but also she is one of the richest women in the industry right now. She is one of the highest paid actresses in the industry for a reason. She has been a go-actress in the entire last decade and reigned supreme on the Box office collections.
Kareena Kapoor Net Worth
Kareena's net worth is estimated around $10 million. The amount is a tally of her properties, movie remunerations, brand endorsement fees, cars, and others. She charges around 8-10 crores for a film and has a long list of products for the advertisement pacts.
Car Collection: BMW 7 Series, Lexus 470 SUV
Awards, Accolades, and Recognition
Kareena Kapoor has been amongst awards right from her debut in the Bollywood. She has won a total of 6 Filmfare's and several prestigious awards. She is known for spontaneity and confidence she exhibits on the screen. Bebo has a trophy cabinet that many women in Bollywood might be envious of. She has hands on every prestigious trophy desired by the top actresses in Bollywood. Here is a list of awards Kareena has won in her career.
Kareena Kapoor Awards
Filmfare award for the best actress for Jab We Met (2008)
Filmfare award for the best female debut for Refugee (2001)
Filmfare award for the best-supporting actress for We are Family (2011)
Filmfare critics award for the best actress for Omkar and Dev (2007,2005)
Filmfare special jury award for Chameli (2004)
Zee Cine Award for the best actress for Jab We Met (2008)
Stardust award for the best actor of the year for Kurbaan and Jab We Met (2010,2008)
IIFA Award for the best actress for Jab We Met and 3 Idiots (2008, 2010)
IIFA Award for the best debut of the year for Refugee (2001)
IIFA Award for the Style Diva of the year (2004)
Zee Cine Queen of Hearts Award (2004)
Stardust award for the style icon of the year (2009)
So many awards and so many left to mention, her long career in the Bollywood cannot be described in a few words. Kareena Kapoor has won many hearts over the course of time. One of the best actresses the industry has seen in the last decade, she stands out with her fine-looks and exuberant acting skills. Our Bebo has tasted success in her long stay at the Bollywood. We hope she keeps delivering heart-felt performances in the coming future and doesn't get tied with parenting issues.
Kareena Kapoor Images