Kangana Ranaut: The Prettiest Doll In The Bollywood
Kangana Ranaut is an Indian model turned actress who is a renowned celebrity in the South Asian part of the world. She is a leading face of Bollywood and is known for her immaculate performances in the Indian Film industry. The actress has established herself without a jack in the Bollywood and zero family support. She is a recipient of several prestigious awards given in and around the country to honor the immaculate acting abilities. She is one of the highest paid actresses in the glamorous realm of the Bollywood.
Kangana Ranaut Biography
Kangana was born on 23rd March 1986 in a small town in Mandi district in the cold state of Himachal Pradesh. She completed her schooling education from the DAV High School in Chandigarh. She chose science as a core subject as she aspired to be a doctor in her early age. Her decision to pursue a career in the medical field was purely influenced by her parents. Kangana admits in an interview of being very cautious and pretentious about her results.  But after she had failed in a unit test in chemistry in class 12, she decided to shift her attention to other career options.
She joined a theater group and acted in several plays during her time in Delhi. She was met with equal recognition but very meager rewards. She was a quintessential actress and her ability to emote always stunned the audience. She was therefore prompted to fly to Mumbai to make a blusterous career in the Hindi Film Industry.
Her family especially her father was against her decision to snub a career in medical. Therefore, he refused to sponsor any further capital to Kangana's career choice. Her rebellious nature made her move away from her family to Delhi in search of space and freedom at the mere age of 16. She refused to acquire any capital from her father, thereafter and struggled her way out to become one of the best actresses in the Bollywood at the coming age.
Kangana Ranaut Age, Height, and Other Numbers
Kangana has had a perfectly petite figure with shimmery eyes and a stunning face. She has stunned the Indian audiences with her outrageous spontaneity and immaculate acting abilities. To decode this gorgeous Indian actress, we listed all her statistical facts at one place so that you know her better.
Kangana Ranaut Body Vitals
Age: 31 years
Height: 5 feet 5 inches
Weight: 52 kilograms, 115 pounds
Curves: 34-25-24 (all measurements in inches)
Hair Color: Black
Eye Color: Dark Brown
Kangana Ranaut Family
Kangana was born in a rich conservative Rajput family to businessman, Amardeep and school teacher, Asha. She is one of the three children in the Ranaut family. She has an elder sister, Rangoli who worked as a manager to the prolific actress. Akshat is the youngest of all children in the family. Ranaut family hadn't been too comfortable to the rebellious Kangana after she decided to pursue a career against their choice. But after achieving tremendous success in the desired fields, the family matters have been resolved. Her grandfather was an IAS officer while her great-grandfather was an MLA.
Kangana Ranaut Filmography
She was first chosen as a model by the Elite Modeling Agency considering her sharp and fresh looks. Kangana wasn't amused by her career in acting as she thought she had a finite horizon and couldn't express herself freely. Therefore she switched to acting in theaters where she tasted success for her proficient acting.
Kangana Ranaut First Film
Kangana was announced by producers Pahlaj Nilani and Ramesh Sharma for their film, I Love You, Boss. Before the film started, Kangana met Mahesh Bhatt via her agent. She met Anurag Basu there and auditioned for a romantic thriller, Gangster. Bhatt though the actress was too small for her age to pull off a character that required her to act drunk and disgusted. Therefore, the film producers reluctantly signed Chitrangadha Singh. But due to her unavailability, the film bounced back in Kangana's court. She nailed the character in the movie to perfection which got her plenty of recognition and awards. Gangster was a critical as well as commercial success. Critics were full of good words for the 17-year-old Kangana.
The Bollywood Triumph
Woh Lamhe was her second film. She portrayed the role of Shabana Azmi in Mohit Suri's directorial venture. She was touched by the characterisation and her love for the role was out on the big screens. Her ability to emote through her eyes made her stand apart in the industry. Apart from having sensational looks, she was blessed with a caliber of courageous yet natural acting. Though her performance rejoiced, the film couldn't fare at the box office.
She featured in several films but they couldn't make a mark at the Box office. Her milestone film came in the form of Madhur Bhandarkar's Fashion in 2008. The film was very well received by the audiences and garnered positive reviews from the critics. Her performance enthralled the Indian film audiences as she won her first of three national awards. Her aura was highlighted throughout the film even after sharing the screen with magnificent Priyanka Chopra. With Fashion being a sensational hit, Kangana cemented her place as an established heroine in the Bollywood.
Ever since Kangana has featured in several films spread across numerous genres. From comedy to drama, and from romance to action thrillers, Kangana has tried hands on almost all genres. She was simply exquisite in her role in the film, Queen. The actress nailed the role with ease and garnered plenty of appreciation from the film industry and its fans. Here is a complete list of Hit film by the Bollywood's prettiest doll, Kangana Ranaut
Kangana Ranaut Hit Films
Queen (2013)
Fashion
Tanu Weds Manu: Returns (2015)
Raaz: The Mystery Continues (2009)
Gangster (2006)
Woh Lamhe (2006)
Once Upon A Time In Mumbai (2010)
Revolver Raani (2014)
Krrish 3 (2013)
Tanu Weds Manu (2011)
Well, this girl hasn't got a perfect set of dancing skills, but she surely fills her drawbacks with her utter craziness and emotions. She hasn't been a part of many dance numbers in her career, but few of her songs have surely gotten us to shake our legs to the happy beats. And let's not forget her audacious performance in the song, London Thumakda. Here is a list of hit songs in which Ranaut has featured in.
Kangana Ranaut Hit Songs
London Thumakda, Queen (2013)
Ghani Bawri Hogi, Tanu Weds Manu: Returns (2015)
Tu Hi Meri Shab Hain, Gangster (2006)
Fashion Ka Jalwa, Fashion (2008)
Jugni, Tanu Weds Manu (2011)
O Gujariya, Queen (2013)
Jhulmi Re Jhulmi, Rajjo (2013)
Parda, Once Upon A Time In Mumbai (2010)
Bloody Hell, Rangoon (2017)
Ranjha, Queen (2013)
Maahi, Raaz: The Mystery Continues (2009)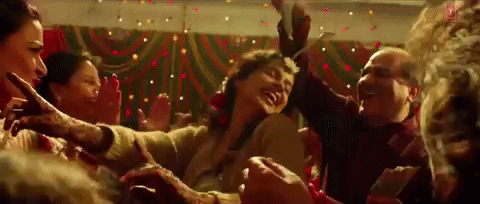 Likes, Dislikes, and More
Ranaut is a decent cook and loves to write. She is a firm yoga practitioner and loves to spend her spare time reading different books. She is an avid reader and her writing skills are as polished as her acting abilities.
Favorite Food: Berry Burst, Dal Rice
Favorite Destination: Paris and Milan
Favorite Superstars: Aamir Khan, Shah Rukh Khan, Sridevi
Favorite Films: Kuch Kuch Hota Hain
Favorite Books: The Story of my Experiments with Truth by M.K. Gandhi
Favorite Color: Black
Favorite Perfume: Chanel No.5
Favorite Restaurant: KongPoush in Mumbai
Favorite Sports:  Basketball
Relationships, Affairs, and More
Kangana Ranaut has been in news for a very long time regarding her relationships. And at most of the times, her relationships have turned scandalous. She has had a troubled personal life throughout her career. The media has slammed this super sexy actress time and again for her disgusting taste of men. Her relationships remain a talking point and a butt of many jokes for the media in her lengthened glorious career.
The actress's horrid choice of men started with Aditya Pancholi, who was 20 years older to the actress. The relationship was hidden under the cover for a long time but the duo wasn't spared from the wrath of the media. The entire episode ended with a bitter taste in both the stars and was bashed by the paparazzi for a strange pairing.
Adhyan Suman and Kangana get along with each other for a very long time. The duo broke up due to a plenty of misunderstandings between the couple. Suman accused Ranaut of her obsessive and manipulating behavior. He also bashed the actress by saying that she was mentally and physically abusive and even performed black magic. Although, it is funny that Adhyan came with his case only when the Hrithik's episode came into limelight.
The growing proximity between Hrithik Roshan and Kangana raised eyebrows when the duo was shooting for Kites. It is believed that Susan left the actor because of her growing insecurities in context to the actress. The relationship reached its peak at the sets of Krrish 3. The growing bond even agitated his father, Rakesh Roshan. But soon after, Hrithik denied all the possibilities of a relationship and said on air that the actress was imagining the relationship in her head. This led to an ugly twitter battle which then took a scandalous turn. Both the actors have turned to court t file defamation cases against each other.
The actress has also been linked to Ajay Devgan and a British doctor, Nicholas Lafferty. Though, there haven't been adequate proofs to add fuel to these relationships. Despite having a successful stint in her acting career, Kangana Ranaut has failed to imitate the same expertise in her personal life.
The Queen of Controversies
Kangana isn't just involved in simple controversies but she makes sure she turns them into scandals. Her career has been cursed with numerous controversies which the actress embraces with equal ease. Although troubled with so many agitations, she hasn't let her on-screen performance drop even a bit. Here is a list of all the controversies the actress has been involved in.
Kangana Ranaut Controversies
Paris Hilton brawl
Kangana was first to reveal that she was invited to become the face of Paris Hilton's line of cosmetics. Soon after, the multinational heavyweight cleared the air surrounding the debacle that she had falsely announced her appointment. Kangana also claimed that Paris had flown to Mumbai to see her, but all the reports deemed out to be bogus.
Righteous Reasons for refusing a fairness cream brand
Kangana recently snubbed an offer of 2 crore rupees to endorse a fairness product in the country. She was in the headlines for all the righteous reasons after she blasted at the people who discriminate on skin color. She also followed her ignorance with a reason claiming that being a national icon, she has some responsibilities. We are proud of you Kangana.
Catfight with Priyanka Chopra
Media speculated that Kangana and Priyanka were indulged in a catfight after Kangana swept all the awards for Queen. Things boiled up when Priyanka claimed to be the leading lady of Krrish. However, media used all their wits to spin the comment and spark a mini catfight between the two gorgeous actresses. Lately, things have resolved between the two after they both have been posing together for the paparazzi at award functions.
Kangana's Kitty
Kangana has established herself as one of the top beauties in the industry. She is undoubtedly one of the highest paid actresses and a prominent figure with directors and producers. Apart from her acting and modeling career, Kangana has added to her kitty by endorsing numerous brands and by performing at prestigious award functions. From staying alone at the age of 16 to building a considerable brand for herself, Kangana has excelled in her career at the speed of light.
Kangana Ranaut Net Worth
The estimated net worth of the ever so gorgeous Kangana Ranaut is $12 million. The enumeration is a tally of her personal investments, movie fees, brand endorsements, and a fleet of luxurious homes and cars. She charges around 10-12 crore rupees per film which makes her one of costliest actors in the Bollywood arena.
Car Collection: BMW 7 Series
Awards, Accolades, and Recognitions
Kangana has won almost all awards that are given to honor the extreme talent exhibited on the big screens. She has had her hands on 3 national awards, 4 Filmfare awards, and much other prestigious recognition. She has till date acted in a total of 29 films, out of which most of them have fared nicely at the Box Office. Here is a complete worth mentioning list of awards; our charismatic Kangana has won in her career.
Kangana Ranaut Awards
2 National awards for the best actress for Queen and Tanu Weds Manu: Returns (2015, 2016)
Filmfare award for the best actress for Queen (2015)
Filmfare award for the best female debut for Gangster (2007)
National Film award for the best-supporting actress for Fashion (2010)
Filmfare award for the best-supporting actress for Fashion (2010)
Filmfare critics award for the best actress for Tanu Weds Manu: Returns (2016)
IIFA Award for the best actress for Queen (2015)
IIFA Award for the star debut of the year for Gangster (2007)
IIFA Award for the best-supporting actress for Fashion (2010)
Stardust award for the best actress for Queen (2014)
CNN-IBN Indian of the year Special Achievement (2016, 2015)
Bollywood movie award-best debut for Gangster (2007)
Bollywood should be grateful for having being blessed with an elegant and outstanding actress like Kangana. She has tussled her way out to silence her haters with sheer charm and extreme talent. With many movies set for release, Kangana is sure to tighten her grip on her Bollywood stature. While controversies remain a dark spot on the fabulous actress's career, her acting abilities are unmatched and undoubted.
Kangana Ranaut Images