Govinda: The Bollywood's King of Dance
Govinda is an Indian film actor who dominated the 90's with his exuberant dancing skills and precise comic timings. He rose to fame within the Indian Cinema with his prolific acting. Making it big in the industry with no Bollywood support or background, Govinda swirled his way up to become the famous celebrities of his time. He has been a recipient of several prestigious awards and honors. Apart from being an actor, Govinda also tried his luck in the fields of politics. He was elected by the people as a member of Legislative Assembly in 2004 but resigned in 2008 owing to a career in the acting realm.
Govinda Family Background & Biography
Govind Arun Kumar Ahuja, or as fans know him as Govinda, was born on 21st December 1963. He was blessed to the actor and producer, Arun Kumar Ahuja and singer turned actress Nirmala Devi. He was born on the outskirts of Mumbai in Virar, where he spent his entire childhood. His family had relocated from a posh locality of Carter's Road to the suburbs of Virar just before the birth of their sixth and the youngest child, Govinda. He belonged from a mixed-descent family with half Punjabi and half Sindhi ethics. He was nicknamed Chi-Chi which translates as a little finger in Punjabi. He completed his Bachelor's in Commerce degree from the Annasaheb Vartak College in Virar.
While in his early college days, Govinda was enthralled to see Disco Dancer and practiced the moves for a long time. His love towards the shimmery realm of the Bollywood had grown stronger. It was his father, Arun that motivated him to pursue a career in acting.
Govinda Age, Height, and Other Numbers
The prolific comedian didn't have ideal 6 feet height nor did he have any bulky muscles, all he had was the ability to emote through his facial expressions and talkative eyes. His acting skills were mashed with proficiency in dancing. It is his sheer talent that made him a superstar that he is today.
Govinda Body Vitals
Age: 54 years (as in 26-04-17)
Height: 171 centimeters, 5 feet 7 inches
Weight: 85 kilograms, 187 pounds
Biceps: 14 inches
Chest: 44 inches
Waist: 36 inches
Hair Color: Black
Eye Color: Brown
Govinda Filmography
Govinda did receive a few advertisement projects before he featured on the big screens. He was first signed for his uncle directorial venture, Tan-Badan. He also shot for the film Love 86 in the same year in 1986. Although he worked on a couple of projects, Govinda's first movie release was the film titled, Ilzaam. His dancing skills were exhibited to the world in the movie, Street Dancer where he established his name is the industry as an efficient dancer. Until the end of 90's, he worked in several films which were a moderate success at the Box-Office.
The actor was a sensational hit during the entire 90's. He reigned supreme over the industry with his sheer talent. He appeared in a total of 17 films which were directed by David Dhawan itself. He also appeared in few movies which were directorial ventures of other directors. He was mostly paired with Raveena Tandon, Karishma Kapoor, and Juhi Chawla. The Hero No. 1 actor mainly acted in movies in the genres of comedy, action, romance, and family drama.
During the early 2000's, Govinda's prominence declined. He couldn't deliver successful movies like the earlier decade. He acted for the first time as a villain in a movie titled, Shikari. The movie couldn't perform as expected at the Box Office, but his performance was critically acclaimed. The fantastic comedian took a break after the slump, but his films kept on hitting the big screens. Govinda declined many roles in the films like Gaddar, Taal, and Devdas, which all were sensational hits of all times.
Govinda shifted his attention to politics and came back only to hit the big screens with a comedy drama, Bhagam Bhag. He shared the screen with Akshay Kumar in the film which was a commercial success. His insurgency was strongly backed with movies like Partner, Salaam-E-Ishq, and Do Knot Disturb. Despite many movies in the 2000's didn't perform well at the box office, his performances didn't decline a bit. He showcased his exuberant acting skills multiple times in a wide array of roles he accepted during her tenure. Here is a complete list of Hit films. Govinda has graced the Bollywood fraternity with.
Govinda Hit Films
Hero No.1 (1997)
Raja Babu (1994)
Coolie No.1 (1995)
Bade Miyan Chote Miyan (1998)
Dulhe Raja (1998)
Haseena Maan Jayegi (1999)
Shola Aur Shabnam (1992)
Kyun Ki Main Jhooth Nahi Bolta (2001)
Bhaagam Bhag (2006)
Partner (2008)
Hadh Kar Di Apne (2000)
Aankhen (1993)
Swarg (1990)
His dancing skills need no description because anyone who has lived through the 90's knows what an eccentric dancer Govinda was. He gave some outstanding performances and songs that went on to achieve the iconic status. Here is a contemplation of hit songs of Govinda, that give us some serious dancing goals.
Govinda Hit Songs
Ek Ladki Chahiye, Kyun Ki Main Jhooth Nahi Bolta (2001)
Kisi Disco Mein Jaaye, Bade Miyan Chote Miyan (1998)
Hum Unse Mohabbat Karke, Gambler (1995)
Sanam Mere Sanam, Hum (1991)
Sona Kitna Sona Hain, Hero No.1 (1997)
Prem Jaal. Jis Desh Mein Ganga Rehta Hain (2000)
Lal Chunriya, Jodi No.1 (2001)
Akhiyon Se Goli Maare, Dulhe Raja (1998)
Makhna, Bade Miyan Chote Miyan (1998)
Paa Liya Hain Pyaar Tera, Kyun Ki Main Jhooth Nahi Bolta (2001)
Bahut Khoobsurat, Shikari (2000)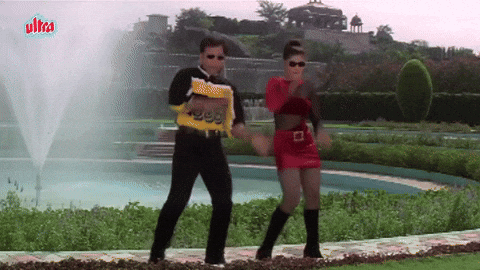 Likes, Dislikes, and More
His love for dance has known no bounds. It has always been on the top of his priority list. He isn't an overall media person that keeps many of his things in great secrecy. Here's a list of his hot-favorites in his general life.
Favorite Food: Bhindi, Khichdi, and Moong Dal
Favorite Superstars: Salman Khan, Priyanka Chopra
Favorite Movie: Barfi
Favorite Restaurant: Just Around The Corner and Ming Yang in Mumbai
Not So Controversial Govinda
He has somehow managed to maintain a low-key when it comes to his personal life. He hasn't created a huge stir nor has given the media the fodder to get dragged in the tabloids. That being said, he has been in a few controversies, but none as scandalous like his other counterparts. Here are 5 instances when Govinda was on the wrong side of the receiving end.
Govinda Controversies
Slapping a person at the sets of Money Hain To Honey Hain.
Govinda allegedly slapped a person at the sets of his movie at Filmistaan Studio. The person went to court and Govinda had to pay a ransom of 5 lac rupees and an apology as compensation to his act. However, the victim isn't happy about the amount of money being offered and wishes to fight further to get an increment with the compensated money.
Jibes at Karan Johar.
The actor was bold enough to say that Karan is not as a straightforward person as he pretends to be. He also expressed his disappointment with the veteran producer for not inviting Govinda at his chat-show. Govinda also claimed that Johar has a group of people that he adorns to, and groups has persisted in the Bollywood at all ages.
"Varun can't be Govinda"
Govinda bashed Varun because his fans tend to call him the new age Govinda. The actor also said that he had done 17 films with his father, while Dhawan managed to do just 3. So there is a long way for Varun to attain the superstar status like Govinda.
Ugly words for David Dhawan
David Dhawan and Govinda were the best of mates in the industry where the duo made 17 films together. But things haven't gone well with the couple after Govinda claimed that the director couldn't stay on his back in his bad times. He also said that he snubbed Govinda multiple times in the dying stages of his career.
Relationships, Affairs, and More
Govinda is a happily married man. But before his marriage, he was rumored dating his co-stars. Now, there's no surprise that a Bollywood superstar is linked with his co-stars. None of Govinda's relationships took a scandalous turn for the good-sake of the actor.He was seeing Neelam Kothari for a brief period. But due to misunderstanding, the relationship couldn't move according to the plan. He was also rumored to be dating Rani Mukherji. But relationship couldn't evolve and there was no strong evidence to confirm their relationships.
The Jodi No. 1 actor married Sunita Ahuja on 11th March 1987. The couple has two children together. Their daughter, Tina Ahuja is one of the aspiring actors in the Bollywood. Yashvardhan is their youngest child. The family has seen together many times during promotional events of Govinda's films.
Awards, Accolades, and Recognitions
Govinda has won several awards in his brief tenure in the Bollywood. He was a household name in the early 90's, where he established himself as a great comedy, action, and romantic hero. His dancing itself got many awards to his trophy cabinet. Although his career has panned with his growing age, Govinda has tried time and again to re-establish himself in the realm of Bollywood as a prime actor. He still avoids playing character roles in the films, owing to his wish to play main lead roles. Out of 26 overall nominations across various honorable film awards, Govinda has managed to win 14 of them.
Govinda Awards
Filmfare award for the best performance in a comic role for Haseena Maan Jayegi (2000)
Filmfare Special Jury Award for Saajan Chale Sasural (1997)
Zee Cine Award for the best actor in a supporting role for Partner (2008)
Zee Cine Award for the best actor in a comic role for Bade Miya Chote Miya and Haseena Maan Jayegi (1999, 2000)
2 IIFA Awards for the best performance in a comic role for Jodi No. 1 and Partner (2002, 2008)
Stardust award for the best supporting actor for Kill Dill (2014)
Star Guild Award for NDTV Imagine Best Jodi Of the Year (2008)
Star Screen Special Jury Award for Coolie No. 1 (1995)
Star Gold excellent comic actor award for Partner (2007)
Govinda, the dancing sensation of the nation cruised his way to the top of the Bollywood industry with his natural acting and contagious spontaneity. The Virar Boy played many roles that required a lot of skill and caliber to pull them off on the big screens. Although, his superiority status has declined with time, he was once an unbeatable actor in his prime. His hard fought efforts to re-establish himself as an actor have failed miserbly. But we all know there are a whole lot of things Govinda can offer to the industry. For that he needs to accept character roles and defy himself as one of the greats to ever grace the Bollywood. A handful in the industry can dance and express like the very gracious Govinda.
Govinda Images