Anil Kapoor: The Evergreen Jhakas Superstar
Anil Kapoor is one of the most established actors of his time. He has had a successful career in the Hindi and the International film industry in a career spanning over 4 decades. Apart from his proficiency in the acting realm, he is also a film producer and has produced quite a number of films in the last decade or so. Also, he is an active personality in some of the most intriguing TV series aired internationally. Anil Kapoor has his impression on the Bollywood as one of the finest and the greatest personalities of the Hindi Film Arena.
Anil Kapoor Biography
He was born on 24th December 1956 in Chembur. He completed his primary education from the Our Lady of Perpetual Succour High School which is located in Chembur itself. Later, he completed his college degree from the St. Xavier's College in Churchgate. The fact that he belonged to a technically sound family hailing from a Bollywood background, he was keen on making a blusterous career in the Bollywood. Kapoor first faced the camera at the age of 12 where he played the role of a young Sashi Kapoor in the movie, Tu Payal Main Geet. However, the film couldn't release due to the post-production issues.
Anil Kapoor Age, Height, and Other Numbers
He is known for his never aging personality and evergreen stature. The actor distinguishes himself from the rest for being actively youthful even in his early 60's. Also, the mustache has never left his face ever since his inception in the Bollywood. Never ever has he tried to put on muscles but has maintained a lean structure throughout. Even then, he has featured in numerous action thrillers and has played the roles with equal finesse.
Anil Kapoor Body Vitals
Age: 60 years (as in 19th June 2017)
Height: 5 feet 10 inches 178 centimeters
Weight: 165 pounds, 75 kilograms
Chest: 41 inches
Biceps: 13 inches
Waist: 33 inches
Hair Color: Black
Eye Color: Dark Brown
Anil Kapoor's Family
The fantastic actor was born to the film producer Surinder Kapoor and his wife, Nirmal Kapoor. Anil is the second eldest child in the family of four children. The eldest son in the family, Boney Kapoor, is a famous Hindi film director while his younger brother, Sanjay Kapoor is an actor. However, Sanjay couldn't garner much success like his elder brothers. The actor, Arjun Kapoor is his niece. He is also uncle to Sridevi's daughters as Sridevi is the second wife of his elder brother, Boney Kapoor.
Anil Kapoor's Success Story
With a defying background in the Bollywood, Kapoor made his Bollywood debut with a cameo appearance in Umesh Mehra's Hamare Tumhare. Later, he shifted to Tollywood to hone his acting abilities. He was then seen in a Telugu film, Vamsa Vruksham before playing a short role in the movie Shakti. He collaborated with the director of his first film as a lead in the movie, Woh Saat Din. He shared the screen with Bollywood legends like Naseeruddin Shah and Padmini Kolhapure.
He came into limelight after he was seen in Yash Raj Production's Mashaal in 1984. His character role of a local goon was much liked by the audience as well as critics. Local Goon or as Bollywood calls it, Tapori, came into trends and such roles were seen in numerous movies thereafter. In 1985 he featured in 3 films which all tasted success at the Box office. Bole Toh Ekdum Jhakas, the famous dialogue of Anil Kapoor that has stuck with him for years came from one of these 3 movies, Yudh. He was exceptional as a lawyer in the movie, Meri Jung for which he was credited with much applause from the critics. 1985 marked the arrival of Anil Kapoor in the industry. Little did anyone know that he'd scale all the parameters of success.
The character role of Tapori stuck with Anil Kapoor throughout his career. Why wouldn't it? After all, he played those roles with much finesse and flare. He was at his quirky best with a comedy role in the movie, Chameli Ki Shaadi. He featured as a Tapori in Karma in 1986 which was the biggest hit of the year.
Anil Kapoor took the late 80's by storm with immaculate performances in movies like Ram Lakhan, Mr. India, Tezaab, Thikaana, and Rakhwala. However, it was Shekhar Kapoor's directorial venture, Mr. India that got Kapoor the superstar status. With success in the movies, Anil Kapoor had slowly made a place in people's heart with instant hit songs like One Two Ka Four. By any standards, those were few of the best years in Kapoor's lengthened career.
As Kapoor cruised toward the Bollywood's ultimate crown, he hit an averagely rough patch at the Box office in early 90's. Many films in the first two years of 90's flopped. The only film that stood out from the herd of flop films was Lamhe. However, the film couldn't perform well at the Box office.
Kapoor was paired numerous times with Madhuri Dixit, which was evidently the most-desired couple on the screens at that time. He proved his mettle in Beta, which was one of the highest grosser of its release year. His acting prowess was once again proved with movies like Laadla and 1942: A Love Story. His choices of roles in the film kept fluctuating which hampered his superstar status to an extent. He had an average decade in the 90's compared to the success he gained in the late 80's.
The year 2000 was a comeback year for the actor who had an indecent run in the later stages of the previous year. He started off with Bulandi which exhibited his acting prowess to the core. He shook the Hindi film fraternity with exuberant performance in the movie, Pukaar. He was mere perfect in portraying challenging roles in movies like Karobaar and Humaara Dil Aapke Paas Hain.
The best performance so far in his career came in the movie, Nayak: The Real Hero. He aced the movie like a star, and proved once again, that why he is highly regarded in the industry. Rishtey was yet another film where Kapoor took away all the limelight with his brilliant acting. Kapoor was seen in the Oscar-winning, Slumdog Millionaire, where he played the role of a host. Till date, he continues to act in several Bollywood films, International series, and Hollywood projects. He is one of the most highly regarded actors in the current scenario.
Anil Kapoor Hit Films 
Tezaab (1988)
Virasat (1997)
Laadla (1994)
Hum Aapke Dil Mein Rehte Hain (1999)
India (1987)
Ram Lakhan (1989)
Judaai (1997)
Nayak: The Real Hero (2000)
Taal (1999)
Pukaar (2000)
Beta (1992)
Slumdog Millionaire (2008)
1942: A Love Story (1994)
Lamhe (1991)
Dil Dhadake No (2015)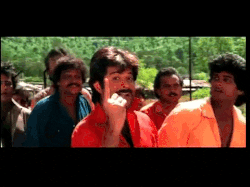 Anil Kapoor Songs
Ek Do Teen, Tezaab (1988)
Yaar Bina Chain Kahaan Re, Saheb (1985)
Ek Ladki Ko Dekha, 1942: A Love Story (1994)
Koyal Se Teri Boli, Beta (1992)
Ishq Bina, Taal (1999)
Hai Hai Mirchi, Biwi No.1 (1999)
My Name is Lakhan, Ram Lakhan (1989)
Gallan Goodiyan, Dil Dhadake No (2015)
Chup Gaya, Hum Aapke Dil Mein Rehte Hain (1999)
Ruki Sukhi Roti, Nayak: The Real Hero (2000)
Likes, Dislikes, and More
Although we have never Kapoor with a muscled physique, he loves hitting the gym and doesn't like to skip his gym sessions. Apart from staying fit with exercise, his other hobbies include painting and traveling. Here is a list of Kapoor's favorite things which help his fans to know him in a better way.
Favorite Food: Grilled Chicken and fish, Stuffed Brinjals, Raddish Paranthas, Gujarati Thali, Teriyaki Chicken
Favorite Color: Black, Red, and White
Favorite Superstars: Rekha, Sridevi, Katrina Kaif, Charlie Chaplin, and Raj Kapoor
Favorite Directors: Christopher Nolan, Danny Boyle, David Fincher, Darren Aronofsky
Favorite Sports: Cricket
Favorite Restaurants: Restaurants in Mayfair, London
Favorite Destination: London
Relationships, Affairs, Girlfriends, and More
The sizzling chemistry on-screen with Madhuri Dixit was carried off the screen as well. The couple was dating for a long time until the duo separated due to the differences between the two. The affair between the two provided great fodder for the magazines and Bollywood tabloids all over the country.
There were rumors that Kimi Katkar and Kapoor were dating for a shortened span. However, this news couldn't catch much fire as the duo didn't give any spicy news about them.
Lastly, Kapoor settled down on the model and designer, Sunita Kapoor. The actor admitted in an interview that they met in 1980 and talked over the phone before they personally met. The couple married on 19th May 1984. They have three children, Sonam, Rhea, and Harshvardhan together. Sonam and Harshvardhan are actors in the Bollywood while Rhea is a renowned designer and owns her own brand, Rheson.
A Million Dollar Man
Kapoor has enjoyed his share of success with numerous films in the past 4 decades. With films in the Bollywood, Hollywood, and other industries, he has earned himself a bank full of money. Also, he has been the face of many brands in and around the country. He is a frequent performer at several award functions and a regular face in a number of Hollywood series.
Anil Kapoor's Net Worth
The estimated net worth of Anil Kapoor is calculated at $12 million. It is believed that the actor charges around 3-4 crore for a movie. He owns a huge bungalow in Chembur and owns a wide fleet of luxurious cars. Also, he has been constantly producing films and serials from 2005 under his own production house.
Cars Collection: Audi RS7, Mercedes ML350, BMW 7 Series 760 Li, W222 Mercedes-Benz S-Class
Awards, Accolades, and Recognitions
The prolific actor has had his hands on almost all awards possibly given in the B-Town to honor the acting abilities of an actor. Kapoor has given numerous hits in the 4 decades and continues to do so even in his 60's. However, he has accepted his growing age and plays supporting roles in the latter part of his career. He has been an excellent actor throughout his time in the B-Town and his trophy cabinet is the reflection of his brilliant work.
Anil Kapoor Awards
Filmfare award for the best actor for Beta (1993)
Filmfare award for the best actor for Tezaab (1989)
3 Filmfare award for the best actor in a supporting role for Dil Dhadakne Do, Taal, and Mashaal (2016, 2000, 1985)
National Film Award for the best actor for Pukar (2001)
Filmfare Critics award for the best actor for Virasat (1998)
2 IIFA award for the best supporting actor for Dil Dhadakne Do and Taal (2016, 2000)
Zee Cine Award for the best actor in a supporting role for Taal (2000)
Screen Actors Guild Award for Outstanding Performance in a Hollywood movie, Slumdog Millionaire (2009)
Guild award for the best actor in a comic role for Welcome (2009)
IIFA award for the best actor in a comic role for Biwi No.1 (2000)
National Film Award for Gandhi, My Father (2009)
Screen award for the best actor in a supporting role for Dil Dhadakne Do (2016)
Stardust award for the best actor in a negative role for Tashan (2009)
IIFA award for the outstanding contribution towards Indian Cinema (2010)
Stardust award for the best supporting actor for Dil Dhadakne Do (2016)
Zee Cine Award for the international male icon (2016)
Bollywood movie award for the most sensational actor for Pukar (2001)
Stardust Special Award (2009)
ITA award for the best actor for 24 (2014, 2016)
Stardust award for the hottest young producer for Gandhi, My Father (2008)
If all his awards had to be mentioned, we'd require a new blog post for the same. Therefore, we curtailed on our list and mentioned the commendable ones. Yet it piled up a huge list of awards that purely exhibit the exuberance possessed by Anil Kapoor. He is one of the most talented superstars to ever grace the Bollywood fraternity. Not only Bollywood, but he has earned himself the roles in Hollywood movies like Slumdog Millionaire and Mission Impossible. He'll be seen in the movie Mubarakan where he shares the screen alongside Illeana D'cruz and Arjun Kapoor.
We hope that Kapoor continues to surprise us with prolific performances in mere future. Also, we wish him to see him in a challenging role which will make us go EKDUM JHAKAAS!